Gwendolyn Brooks Youth Poetry Awards Celebrate Young Writers Across Illinois

CHICAGO, July 2019 – Young poets from across Illinois named winners of the 2019 Gwendolyn Brooks Youth Poetry Awards, an annual competition open to all Illinois writers in grades K–12. The winners were selected from a pool of 260 submissions representing 67 Illinois schools, 43 cities and towns, and 14 counties.
Each winner of this nationally-recognized award created by Gwendolyn Brooks, receives a monetary prize, a volume of poetry by Gwendolyn Brooks provided by Library of America, and the opportunity to recite their award-winning poem to family, friends, and teachers on Saturday, August 10 at the Poetry Foundation. Kenyatta Rogers, poet and educator at the Chicago High School for the Arts, will host the awards.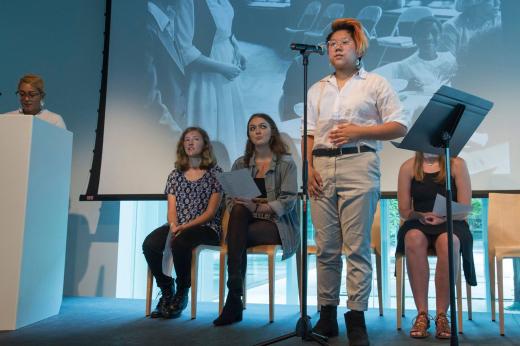 Honoring Illinois's Poetic Legacy 
Gwendolyn Brooks, the first Black author to win a Pulitzer Prize, began the Youth Poetry Awards in 1969 while she was the poet laureate of Illinois. Brooks founded the awards, motivated by her "belief that a 'poet laureate' should do more than wear a crown – should be of service to the young." Brooks was a champion of young writers, and organized the awards for 30 years—sending flyers, supervising selections, speaking at ceremonies, and personally corresponding with the poets—until her death in 2000.
Illinois Humanities and the Poetry Foundation in partnership with Our Miss Brooks 100 revived the awards in 2017 in honor of Brooks's centennial, a yearlong celebration of her legacy as a poet and a mentor to countless young people and poets. In the three years since the revival, 825 entries have been submitted to the competition, which was renamed in honor of the woman who started and maintained the program for three decades.
"The awards continue in the spirit of Ms. Brooks's legacy. Even at the height of her accomplishment and fame, she continued to uplift the voices of young writers from Illinois and across the country," said Ydalmi Noriega, Poetry Foundation community and foundation relations director. "We are proud to see a new generation of poets carrying the torch forward, and sharing poetry with their own communities."
Celebrating Young Poets 
The Gwendolyn Brooks Youth Poetry Awards are open to all young people in Illinois, from Kindergarten through 12th Grade. Students can be in school—public, private, and home—or other institutions. Each student may submit one original poem, not exceeding 16 lines for Fifth Grade and below or 50 lines for Sixth Grade and above. Students may submit their poems on their own, or a parent or teacher may submit on their behalf.
"The writers who submit their work to the Gwendolyn Brooks Youth Poetry Awards are part of a powerful youth tradition, but are also part of the community of writers of all ages," said Gabrielle Lyon, executive director of Illinois Humanities. "We're proud to carry on the work started by Ms. Brooks, who invested so much of herself in nurturing the talent and voices of young people across the state, and in celebrating the work and commitment of the educators who nurture them ."
The 2019 Gwendolyn Brooks Youth Poetry Award Winners are:
First Grade
"Colors" by Scarlett Phelps – Carlinville Primary School, Carlinville, Illinois
Second Grade
"I Want a Cat" by Sally Weinberg – Washington Elementary, Evanston, Illinois
"Rainbow" by Greta Johnson and Matilda Zeman – Avery Coonley School, Naperville, Illinois
Third Grade
"Storm" by Tessa Pruden – The Children's School, Oak Park, Illinois
"Dear Llamacorn" by Sadie Haupt – North Shore Country Day School, Winnetka, Illinois
Fourth Grade
"Nightingale" by Ian Brost – Chicago Free School, Chicago, Illinois
"In the Midst of Black and White" by Karlina Tolksdorf – Fairview South School, Skokie, Illinois
Fifth Grade
"Confetti color 1311" by Parmita Karshanipour – Avery Coonley School, Batavia, Illinois
"Nature's Impermanence" by Eleri Swanson – Fairview South School, Skokie, Illinois
Sixth Grade
"Clouds of Emotion" by Athena Gottlieb – Pritzker Elementary, Chicago, Illinois
"A world of wonder" by Katrina Lin – John C. Haines Elementary, Chicago, Illinois
Seventh Grade
"The Gargoyle of Notre Dame" by Joshua Reginold – Fairview South School, Skokie, Illinois
"In the Safe House" by Eleanor Ross – Rebirth Poetry Ensemble, Chicago, Illinois
Eighth Grade
"We Left School" by Ben Divovich – Fairview South School, Skokie, Illinois
"'Hope' is the thing with feathers- 'Dread' is the thing with talons-"" by Arwyn Gorecki – Fairview South School, Skokie, Illinois
Ninth Grade
"Bug camp. Age twelve. Mississippi: The Killing Jar" by Ruby Davis – Oak Park River Forest High School, Oak Park, Illinois
"The Tower" by Sylvia Hernandez – George Washington High School, Chicago, Illinoi
Tenth Grade
"The Penal System" by Keondre C. – Nancy B. Jefferson Alternative School / Free Write Arts & Literacy, Chicago, Illinois
"Cicero" by Mauricio L. – Nancy B. Jefferson Alternative School / Free Write Arts & Literacy, Chicago, Illinois
Eleventh Grade"My Existence Be" by Isaiah Jamison – Chicago Math and Science Academy, Chicago, Illinois
"Mama Loves You!" by Aanika Pfister – Lane Tech, Chicago, Illinois
Twelfth Grade
"They call us Alien" by Cristina Hernandez – Gage Park High School, Chicago, Illinois
"Some Sort of Ode to the Gay Cousin" by Ivy Weston – Whitney M. Young Magnet High School, Chicago, Illinois
About the Poetry Foundation 
The Poetry Foundation, publisher of Poetry magazine, is an independent literary organization committed to a vigorous presence for poetry in American culture. It exists to discover and celebrate the best poetry and to place it before the largest possible audience. The Poetry Foundation seeks to be a leader in shaping a receptive climate for poetry by developing new audiences, creating new avenues for delivery, and encouraging new kinds of poetry through innovative literary prizes and programs.
Follow the Poetry Foundation and Poetry on Facebook at facebook.com/poetryfoundation, Twitter @PoetryFound and Instagram @PoetryFoundation.
About Illinois Humanities 
Illinois Humanities works to build dialogue across all sectors of society to examine issues important to democracy in the focus areas of public policy, media & journalism, economy, and art. Using the humanities as a tool to stimulate discussion, we create experiences across Illinois through programming, events, and grant making to engage a diverse public on ideas and issues that matter.
For more information, visit ilhumanities.org, facebook.com/ILhumanities, Twitter @ILhumanities, and Instagram @ILhumanities.