Boston Teachers Union Rallies For A
Safe School Restart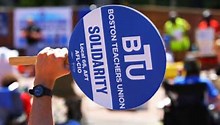 Thursday rally and car caravan will advocate for a remote restart of Boston Public Schools this fall with a phased-in hybrid approach 
BOSTON, MA — Educators from the Boston Teachers Union (BTU) will rally Thursday to advocate for a safe restart of the Boston Public Schools (BPS). Demonstrators will rally and a small delegation will deliver the BTU's proposal for a safe school restart outside Boston's City Hall following a car caravan. BTU's proposal focuses on a remote restart of the upcoming school year with a phased in approach to a hybrid plan when it's safe. Starting at noon, educators will stage a car caravan at the Madison Park Technical Vocational High School parking lot and culminate with a rally at Boston City Hall. 
"We're calling on BPS to plan for a fully remote reopening to begin the school year, and a phased-in return to in-person learning," said BTU President Jessica Tang. "We should learn from other school districts in other states who rushed to launch in-person instruction and are now dealing with multiple COVID-19 outbreaks."
Currently, the BTU feels the draft reopening plans provided by BPS do not meet the standards necessary to ensure the safety of Boston school facilities, adequate staffing and supplies, and comprehensive guidance for families and school personnel regarding COVID-19. The union has publicly advocated that all reopening plans must be guided by health and safety considerations and led by health care experts. 
RALLY FOR SAFE SCHOOL REOPENING
The caravan and rally are part of BTU's Week of Action. During this week, educators are calling on BPS to plan for a fully remote reopening to begin the school year and a phased-in return to any in-person learning only when it is safe — when all safety protocols are in place and verified. 
Boston Teachers Union
Thursday, August 13
City Hall rally begins at 2:30 p.m.
Rally at Boston City Hall, 1 City Hall Sq, Boston MA, 02201
About the Boston Teachers Union
The Boston Teachers Union proudly represents more than 10,000 teachers and other professionals including school nurses, psychologists, guidance counselors, paraprofessionals, and substitute teachers. Together, we advocate for the interests of students, parents and education professionals throughout Boston. We support investment in public education to ensure a stronger future for our students and our city. As a union of educators, we are part of a movement that seeks to improve the quality of life for all working people. We are united against all forms of prejudice and bigotry that would seek to devalue the lives or liberties of our students, families or colleagues.