Union Members Volunteer for a Complete Census Count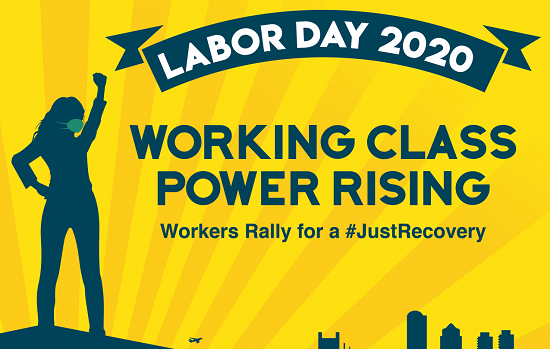 Across the Boston area, union members are volunteering in their workplaces and communities to increase Boston's Census response rate
BOSTON — On Monday, September 28, union members partnered with the City of Boston to volunteer in their workplaces and communities to help increase local Census response rates, with the goal of achieving a complete and accurate count of all Bostonians. Massachusetts' cities and towns have a once-in-a-decade opportunity to conduct a complete Census count to determine the allocation of more than $1.5 trillion in federal funding for education, health care and housing programs. 
Here are some of the ways union members volunteered across Boston and the region.
 
The Greater Boston Labor Council and the Massachusetts AFL-CIO held a Union Member Census Day of Action. Volunteers received training and then dispersed to different food lines and other sites around Boston to help identify people who had not yet completed the Census to provide them with instructions and assistance on how to do so. Volunteers wore masks, practiced social distancing and disinfected all materials to ensure the safety and protection of the community.  
The Boston Building Trades Unions held a Census Stand Down at construction sites, union meetings and union halls across the region. Union members at sites across Boston took breaks during their shifts to fill out the Census and educate members on the importance of a complete count.
The Boston Teachers Union had members assign Census homework. Teachers asked students to help their parents fill out the census by Monday as homework or as extra credit. BTU also encouraged all members to complete their own Census forms.  
1199SEIU held a phone bank to ensure members had filled out their Census form, reaching members with the message that their Census is vital to a complete count. 
Darlene Lombos, Executive Secretary-Treasurer of the Greater Boston Labor Council said, "Black and brown people and low income and poor communities are historically undercounted in the Census, leaving our neighborhoods underfunded. We are up against political forces in the White House that want to dismantle democracy, but we have power through the Census. Community groups and volunteers have been driving Census turnout for months, and now it's time for labor to play our part – that's why we held this Day of Action today."
Steven A. Tolman, President of the Massachusetts AFL-CIO added, "A complete and accurate count in the 2020 census is critical for working families in Massachusetts. From engaging in legal battles in court to exclude immigrant communities, to shortening the Census collection window, the Trump administration is attacking the very foundation of our democracy – the Census. As union brothers and sisters, we must all stand together and do our part to ensure our co-workers, neighbors, and family members are counted to safeguard our community and our democracy."
 
About the Greater Boston Labor Council
Chartered by the National AFL-CIO, the Greater Boston Labor Council's mission is to improve the lives of working families within the 24 communities in our jurisdiction. Our goal is to build a movement of unions and workers to advocate for working family issues in city and town halls throughout Greater Boston. The Greater Boston Labor Council also seeks to reach out to progressive allies within our communities to form coalitions to advance the cause of economic justice. Through our Committee on Political Education (COPE), the Greater Boston Labor Council is actively engaged in the political process. We endorse and campaign for candidates for municipal office who are supportive of the needs of union members and working families.
About the Massachusetts AFL-CIO
The role of the Massachusetts AFL-CIO is to serve as the unified voice of all organized workers in the Commonwealth and to be a voice for all working people, those in unions and those not yet organized. Our mission is to improve the lives of working families—by working for economic and social justice in the workplace, in our communities, our state, and in our nation. Our mission is to build the labor movement – to join our collective power together and advance a broad social and economic justice agenda. We want an economy that benefits and reinforces the work of every individual union and worker. Our vision is of a fair and just society that benefits all working people, the organized and the not yet organized.