Mayor Grebien Welcomes Pawtucket's Newest Business with Ribbon Cutting Ceremony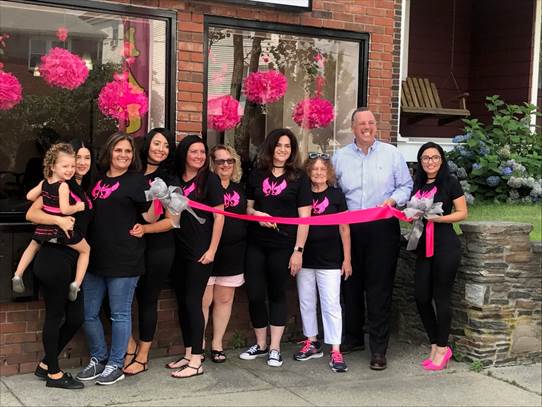 PAWTUCKET – On Saturday, July 22, Pawtucket Mayor Donald R. Grebien celebrated the opening of one of Pawtucket's newest business, Heavenly Hair Salon, with a ribbon cutting ceremony at 587 Armistice Boulevard.
 Heavenly Hair Salon is owned by Pawtucket natives Andrea Dupont, Tara Gagnon, and Christine Colby. The salon specializes in beauty, hair, and personalized care from a team of professionals.
 They cater to women, men, and children, offering haircuts, colors, and up-dos, as well as waxing.
 Heavenly Hair had a soft opening in May, and is a new venture for the owners who have previous combined experience of thirty years at other salons.
 The new salon, was buzzing with staff, family and friends at the ribbon cutting event.
 Mayor Grebien addressed the crowd as a citation was presented recognizing Heavenly Hair Salon.
 "I want to thank Andrea, Tara and Christine for choosing Pawtucket as their home," said Mayor Grebien. "I am very pleased to welcome Heavenly Hair Salon to the City of Pawtucket and I am thrilled that they have chosen to Join the Evolution."
"We are excited to have our own salon in the community that we grew up in, said the salon owners. "I want to thank the Mayor, our friends, and families for the warm welcome and support."
 Heavenly Hair Salon is located at 587 Armistice Boulevard, Pawtucket.
 They can be contacted by calling 401-305-7160. For more information, visit their Facebook page at
 https://www.facebook.com/HeavenlyHairRI