Celebrate Spring with the Wind Symphony Concert!??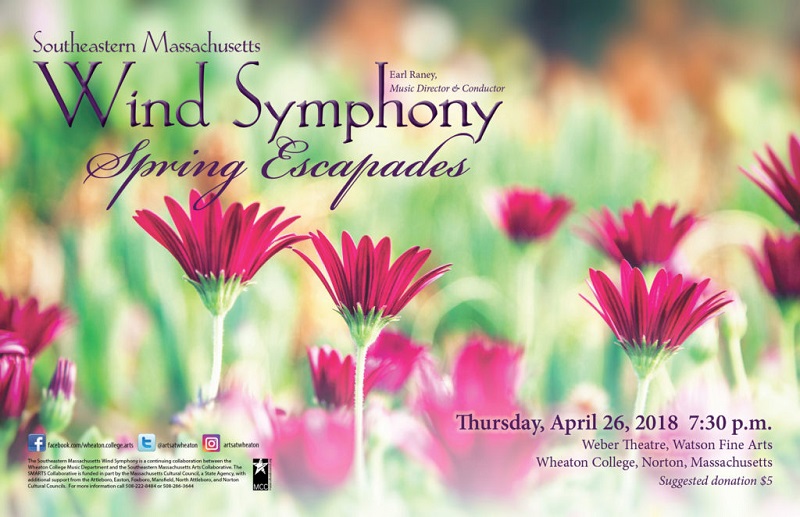 Southeastern Massachusetts Wind Symphony, under the direction of Earl Raney, will present "Spring Escapades!??"??
The program will feature beautiful and exciting??works by Rossini, Anderson, Gershwin,??Mangione, Bernstein, and others, including??An Italian in Algiers Overture,??Selections from Candide, Porgy and Bess Suite, New Orleans Salute, Music form "The Incredibles", and In the Mood!??
Conductor Raney adds, ???We will also be playing my composition,??Feliz Vientos??del Atl??ntico.??
This concert promises to be a fabulous evening of family fun and exciting music!
Celebrate spring with our wonderful musicians. No snow allowed!???
The concert will take place on??Thursday, April 26 at 7:30 pm at Weber Theater on the campus of Wheaton College, 26 East Main Street, Norton, MA. Suggested Donation $5.
The Southeastern Massachusetts Wind Symphony is a continuing partnership between the SMARTS Collaborative and the Wheaton College Music Department.
Now in its 28th season, the Wind Symphony is comprised of area high school students, students from Wheaton College and adults from more than fifteen surrounding communities.
Founded in 1990 by the SMARTS Collaborative, the Wind Symphony has presented numerous concerts throughout the area while establishing itself as one of the region???s leading performing group.
The Wind Symphony is funded in part by the Massachusetts Cultural Council, a state agency and the Local Cultural Councils of Attleboro, Mansfield, Norton, and Taunton.
For more information please call 508/286-3644 or email: arts@wheatonma.edu