SAINT JOHN'S SCHOOL CLASS OF 2018??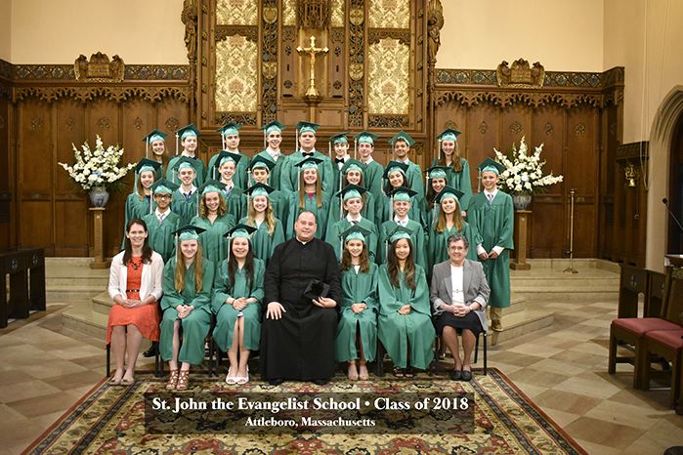 Twenty-eight students graduated from St. John the Evangelist School in Attleboro on Friday, June 8 in St. John's Church.
The Reverend Christopher M. Peschel celebrated Mass with musicians Jason Hervieux and Bethany Conway.
All of the graduating students took part in the Mass by reading, bringing up the gifts and singing.
Maggie Dion gave the graduate reflection. Students from the St. John's graduating class will be attending Bishop Feehan, Attleboro High School and Moses Brown School.
Pictured are:
(front row) Miss Bridget Baudinet, Summer Pereira, Giana Faria, Fr. Chris Peschel, Genevieve LeBlanc, Wendy Le, Sister Mary Jane Holden, C.P.
(second row) Gopesh Ganatra, Michelle Langelier, Emma Chapman, Dylan Martinelli,Tate DeMond, Maggie Dion
(third row) Jill Carline, Logan Gallagher, Nolan Duffy, Brandon LeBlanc, Jaqueline Dooley, Taylor Harrison, Claudia Dellaleh, Sarah Ribeiro, Michael McCarthy
(back row) Taylor Brown,Blake Garzaro, Adam Pearlstein, Robert Pombriant, Isaac Pereira, Liam Bishoff, Joseph Lawrence,Elias Bilal, Delia Barthel