Landmark Lobby Reform Signed Into Law??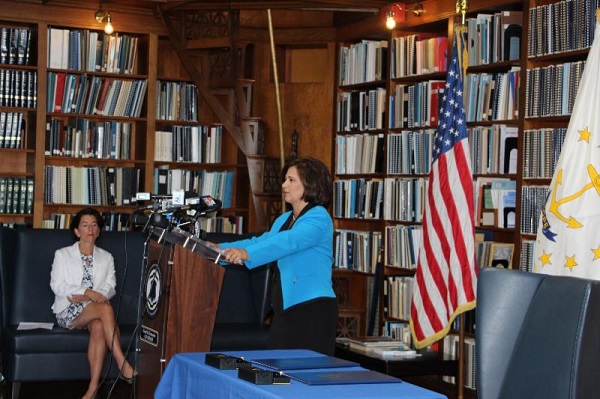 Secretary of State Nellie M. Gorbea recently celebrated the passage of the 2016 Lobby Reform Act during a State House Library ceremony where Governor Raimondo signed the bill into law. Gorbea championed the legislation, introduced by Representative Jacquard and Senator Lynch Prata, in an effort to clarify, simplify, and strengthen lobby laws in the state.?? ???Comprehensive reform of the state???s lobbying laws has been one of my top priorities,??? Secretary Gorbea said.?????This law strengthens Rhode Island???s commitment to transparency and effective government.???
The 2016 Lobby Reform Act came in response to repeated concerns from constituents, lawmakers and lobbyists that Rhode Island???s existing lobbying statutes were difficult to interpret and to comply with. The legislation was drafted after a comprehensive review of the two statutes governing lobbying by Secretary Gorbea's Lobbying Advisory Task Force. It passed unanimously in both General Assembly chambers.
At the ceremony, Secretary Gorbea thanked??Governor Gina Raimondo,??House Speaker Nicholas Mattiello,??Senate President M.Teresa Paiva-Weed, the bill's sponsors: Senators??Erin Lynch Prata and Representative Robert Jaquard, along with co-sponsors Senators Gayle Goldin and Frank Lombardi, and Representatives Anastasia Williams, Deb Ruggiero, and??Carol Hagan-McEntee for working to make Rhode Island a national leader in transparency and openness.