HEBRON FOOD PANTRY FUN WALK A SUCCESS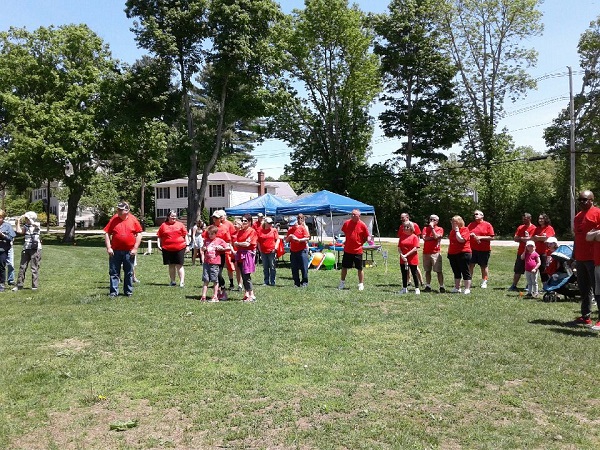 FIRST WAVE OF WALKERS
Hebron Food Pantry??held its??Sixth Annual Fun Walk??late in May at Willett Field, Attleboro.????Profits from the Walk will be used to purchase food at The Greater Boston Food Bank, where every $1.00 raised buys approximately $20.00 of food at retail prices.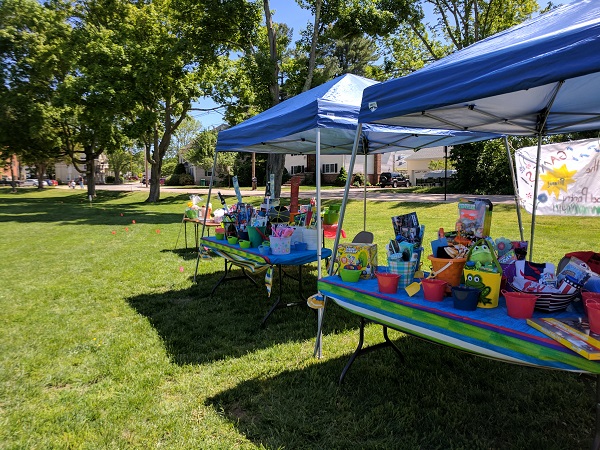 MANY DONATED GIFT BASKETS
Over 100 walkers participated in the fun-filled events of skill, chance and perseverance along the walk path. Participants earned raffle tickets at each station for the almost 50 donated prizes, gift certificates, event tickets, and the grand prize ??? $100 Gift Card to Roche Bros. Supermarket! We had a special entertainment from Salt+Light, a group from A Work in Progress Productions!??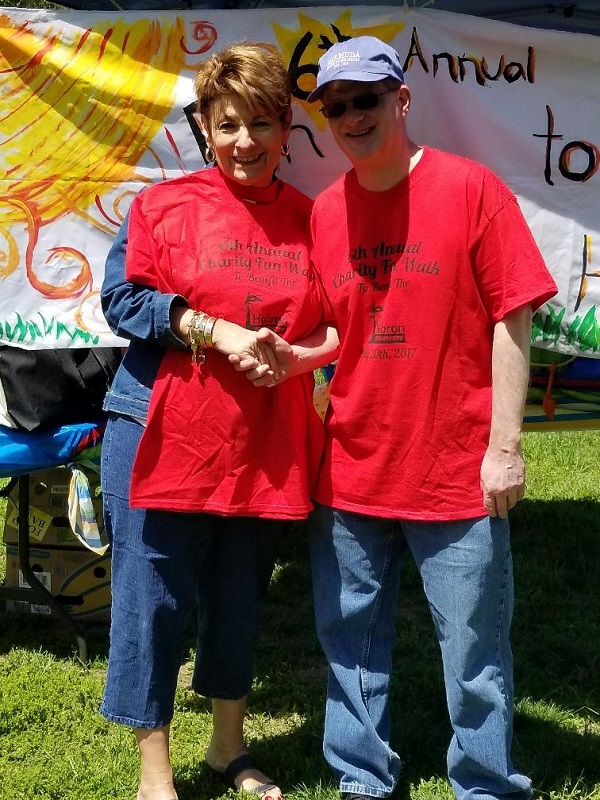 REP BETTY PORIER CONGRATULATES DON BURCH ON SUCCESSFUL WALK
This year???s walk raised thousands of dollars thanks to our dedicated walkers and to the many generous sponsors listed here: BDL Heating & Cooling, Inc.; G.H. Electrical Service Co., Inc.; Sensata Technologies; AAA Northeast;?? Attleboro Moose Lodge #463; Coogan Smith, LLP; Dasko Label; EMC Technologies; Engage2Excel; F.A.R. Service Co.; R.S. Gilmore Insurance Agency, Inc.; Rebeckha Lynn Whitefield Foundation; Security III, Inc.; Castro, Thresher & Oliveria, P.C.; Collins Smith & O???Connor, LLP; Cryan Landscape Contractors, Inc.; Dome Construction Co., Inc.; Eastern Supply Co.; Fabulous Cleaning; Footworks; Goldmark Federal Credit Union; Hair???s To You; HarborOne Bank; Mac & Walt???s; Roche Bros. Supermarkets; State Representative Elizabeth Poirier; Thomas Michaud ??? Jack Conway Realtor; TM Irrigation; The Shore Law Firm; Walgreens;?? 99 Restaurant; Jamie Burbank; Christmas Tree Shops; Chop Shop; Pawtucket Red Sox; Southwick Zoo; and Walmart.
Hebron wishes to send a big thank you all the walkers and sponsors who made the 2017 Fun Walk a great success. The Hebron Food Pantry now will have the monies to supply all five food groups, every week of the year, to working persons and seniors in need of food assistance.
Contact:???????????? Michelle Burch, Director???????? hfpdirector@gmail.com???????? ???????? 508-223-4257