42nd Annual Penguin Plunge
Monday,??January 1, 2018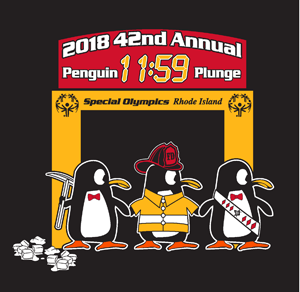 Everyone is talking about the weather and these freezing cold temps that??we've been having. People are asking if the Penguin Plunge will be??cancelled or postponed. The answer is NO, the plunge will go on as??planned.
HOWEVER, we strongly urge people to use their good judgement. If you??have any sort of medical condition, you should NOT??plunge.?? If you've been sick or are fighting an illness, DON'T plunge. We STRONGLY suggest??young children DO NOT plunge this year. If they do, please make sure they are with an adult at all times. All plungers should make certain to have??someone holding their towel for them as soon as they get out of the water.??Be certain to have something on your feet at all times!
It's our #1 priority to have a SAFE Plunge. Again, we ask that you all??give this serious thought and to use common sense with the predicted??freezing cold temperatures for January 1st.
Join us on Monday,??January 1, 2018and help us celebrate the 42nd Annual Penguin Plunge for Special Olympics Rhode Island at Roger Wheeler State Beach in Narragansett. Join thousands of individuals who will be "Freezin for a Reason" when they take the plunge at exactly 12 noon to raise money for Special Olympics Rhode Island. It's going to be the "Coolest Event" in Rhode Island with plenty of chills, thrills and fun for the whole family. 2018 also marks the 50th Anniversary of Special Olympics, which we will kick-off with a BIG SPLASH!
The Penguin Plunge for Special Olympics is one of the original New Year's Day Plunges in Rhode Island and is a tradition for generation after generation of plungers. The Penguin Plunge Committee has worked hard to ensure that this event would be a success with an opportunity for some great photos, video and interviews from plungers and spectators. For more information, visit our website at www.specialolympicsri.org.????All proceeds from this event will benefit more than 3,500 athletes that compete year-round in over 1,600 training opportunities and athletic competitions.
Over the past 42 years the event has transformed into one of the largest and most successful fundraising events for Special Olympics Rhode Island raising over $3 million dollars. ??All plungers are encouraged to fundraise for this event.??