Video offers an edgy lens into Pawtucket???s textile manufacturing industry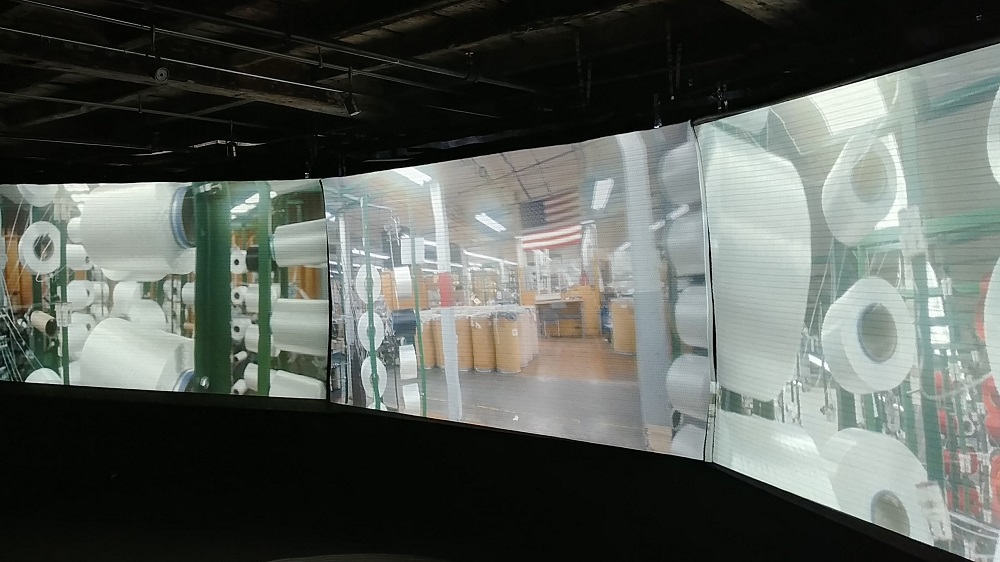 (Pawtucket RI) Exactly what goes on behind the large sliding steel doors of Rhode Island???s textile manufacturing plants is a mystery to most.
We know it???s happening. We hear state leaders touting its merits as an economic engine, and for its promise of jobs.
And we know historically that the American textile industry began in Pawtucket, Rhode Island.??
But how many of us have experienced first-hand the hustle and bustle of a textile manufactory, or any type of manufacturing plant?
This month Slater Mill opens a new contemporary video installation intended to unmask some of that mystery, while delivering a stimulating, larger-than-life experience on a 24-foot, three-panel screen.
Seamless Work is a ten-minute short that has been in production for eighteen months; a directorial collaboration of Slater Mill executive director Lori Urso, and Kris Craig, a staff photographer and videographer for the Providence Journal for over three decades.
Urso and Craig maintain that this is much more than just a video, however. Seamless Work is presented as an installation of three screens, each 4.5 feet x 8 feet, projected within a black box theater installed on the second floor of the historic Old Slater Mill.
???This exhibition delivers a very up-close, stimulating view of the pace and energy inside a textile plant today,??? said Urso. ???We were fortunate to have the cooperation of three Pawtucket manufacturers, who allowed us to capture the activity and workers inside their workplaces.???
The project team, which also includes Rhode Island filmmaker Nick Marcoux, and contemporary art curator Judith Tolnick Champa, filmed for four hours in each of three Pawtucket textile factories:?? Colonial Mills, Neocorp, and Northeast Knitting.?? From that twelve hours, this 10-minutes artistic video was composed.
The audio soundtrack – a combination of natural machine and mill noise, supported by a drum and bass soundtrack by Quarks ??? enhances the interpretation and drives the visual movement.
???The overall scope of it ??? the size, multiple screens, build out, and all that went into bringing the original vision to light – was something we hadn???t attempted before,??? said Craig, about his reasons for joining the production team. ???I also liked the collaboration. In journalism, our work can be solitary at times, so the team aspect for me rendered another level of creativity.???
According to Urso, the idea for Seamless Work was inspired by a visit to the Museum of Art and Design in New York City two years ago, where she viewed a labor and manufacturing-oriented work by filmmaker Daniel Eisenberg.
???Slater Mill had been considering how to portray today???s textile industry through some type of exhibition, but it couldn???t just be samples and swatches on a pedestal,??? said Urso.?? ???After seeing the Eisenberg video studying German manufacturing, I thought a similar approach could really resonate here with Pawtucket textile mills as the subject.???
Seamless Work is produced by the Old Slater Mill Association, with funding from the Gordon and Marjorie Osborne Foundation, Stearns Charitable Trust, the City of Pawtucket, the Rhode Island State Senate, and the Rhode Island State Council on the Arts.
The first screening and reception is Thursday, February 15, 6:00 to 8:30 p.m. Gallery hours will be Wednesday through Saturday, 11:00 a.m. to 4:00 p.m., February 16 through March 21.??
Slater Mill is located a 67 Roosevelt Avenue, in downtown Pawtucket, Rhode Island.?? For more information visit
www.slatermill.org
or
facebook.com/slater.mill
or call 401-725-8638 x.111.?? Theater is accessible.?? Admission is free (small donation suggested).