2018 Spring Artists of the Month
Attleboro Arts Museum???s
Community Gallery
May ??? Susan Clarke, monotype
June ??? Riley Collins, mixed media??
Attleboro Arts Museum
86 Park Street, Attleboro, MA
Free and open to all
The Community Gallery is located in the lobby of the Attleboro Arts Museum???s Emory Street entrance.?? For over a decade the Museum has been pleased to offer this prominent gallery space as a solo exhibition opportunity for both promising and professional artist members.
By showcasing one member artist per month, the Community Gallery is able to maximize exposure of unique art and contact with Museum viewers within its a high traffic exhibition space that is open to the public during Museum hours of operation.?? Artworks on display are new works that are currently being produced within the exhibiting artists portfolios.
May Artist of the Month ??? Susan Clarke of Lincoln, RI.
???I am drawn to study and explore the shapes, colors and textures of the natural world.?? My art is filled with images of leaves, sticks, feathers, stones, bones and fossils.?? I find such beauty in their delicateness.?? Whether I am working with acrylics, collage or monotype, the techniques of layering and over glazing from my decorative painting background remain a major influence in my work.?? Each layer adds depth and richness to the work.?? Although I begin with a sketch, each piece evolves as the layers are added.?? I love the surprises that occur as each layer unfolds a new piece of the story and exposes a little of the previous one.?? It is such an exciting moment when the last layer is unveiled and you know it is perfect!??? states Susan Clarke.
June Artist of the Month ??? Riley Collins of Attleboro, MA.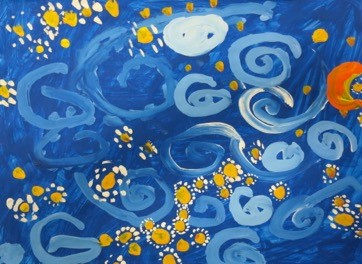 Riley Collins is eight years old.?? She has been taking art classes in drawing, painting and ceramics at the Attleboro Arts Museum since 2014. Riley has always demonstrated a true dedication to art-making and it has been a joy to watch her talent and skills grow over the years.?? She is courageous young artist whose favorite time of day is when she is creating art.?? Riley comments, ???I love to paint because it is fun.?? I love to draw because it is fun.?? I enjoy using all different colors and paints.?? When I???m at art class I feel happy!???
Riley is this year???s recipient of the Museum???s prestigious Mangbetu Award. A Reception & Award Ceremony will be held at the Museum on?? Sat., June 23rd??from 3-4:30pm ??? this event is free and open to all. The annual Viktor Schreckengost Mangbetu Award salutes outstanding arts achievement and commitment by Attleboro Arts Museum W. Charles Thompson Museum School students.????
Mangbetu Award History:
As a result of a generous gift from Mrs. Gene Schreckengost, The Attleboro Arts Museum is the fortunate recipient of Viktor Schreckengost???s 1933 original Mangbetu Child; Bronze Casting #2. This exceptional piece was on display at the Museum during the Viktor Schreckengost Legacy Exhibition (March 21 ??? May 16, 2008) and serves as a strong symbol of Vik???s talent and range as an artist.
As a salute to Viktor Schreckengost, The Attleboro Arts Museum has instated The Viktor Schreckengost Mangbetu Award honoring Viktor???s contributions as an educator and remarkable accomplishments as an artist and designer.
To learn more about exhibition opportunities in the Attleboro Arts Museum???s Community Gallery contact office@attleboroartsmuseum.org or 508-222-2644 x15.
_____________________
Attleboro Arts Museum:
The Attleboro Arts Museum involves audiences of all ages and backgrounds in the visual arts through diverse educational programs and engaging arts experiences. We work to support the creative and artistic development of both promising and professional artists. The Museum is a privately supported, non???profit arts institution whose core commitment to Arts for Everyone guides the Museum's programs and operations.
Admission to the Attleboro Arts Museum is free; donations are always appreciated.
Wheelchair & stroller accessible.
Museum Gallery Hours:??????????????????????????????????????????????????
Tuesday ??? Saturday, 10am???5pm??????????????????????
Summer Gallery Hours as of May 29th, 2018:
Tuesday ??? Saturday, 10am???4pm
Closed: Saturday, May 26th, 2018
Contact:
Abby Rovaldi
Museum Programs Coordinator
Attleboro Arts Museum
86 Park Street
Attleboro, MA 02703
tele: 508.222.2644 x15;
email: arovaldi@attleboroartsmuseum.org
Susan Clarke is a teaching artist through VSAArts of RI.?? She holds a certificate in Decorative Painting from RISD Continuing Ed.?? She has studied acrylic painting and monotype printing with Paula DeSimone and painting with Katherine Lovell.??
She has recently exhibited her work at the Attleboro Museum, Spring Bull Gallery, The Preservation Framer, Rhode Island Watercolor Society, Monotype Guild of New England, Hopkington Center for the Arts, One Studio Smooch, Easton Travelling Artist Program and Gilbert Stuart Museum.
She is a member of Collective Marks Artists, the Attleboro Art Museum, the Monotype Guild of New England and the R I Watercolor Society.