Lambre Zooms to Victory in Inaugural $225,000 Kentucky CSI3* Invitational Grand Prix at the Land Rover Kentucky Three-Day Event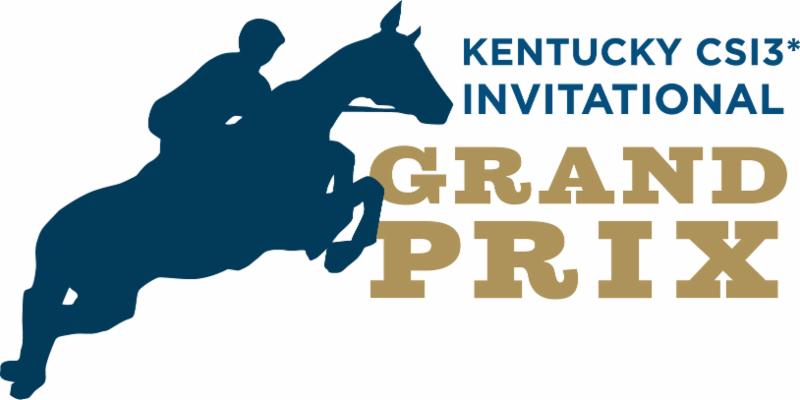 Lexington, Ky., April 28, 2018-The huge crowd was on its feet as Santiago Lambre and Dingeman flew across the finish line to win the inaugural $225,000 Kentucky CSI3* Invitational Grand Prix at the Land Rover Kentucky Three-Day Event. Lambre, of Mexico, finished in a blazing time of 48.9 seconds to edge Eve Jobs of the USA and Venue D'Fees Des Hazalles who finished second in a time of 49.62 and Conor Swail of Ireland and Rubens LS La Silla who was third in a time of 50.64.
This is the first year this competition has been held in conjunction with the Land Rover Kentucky Three-Day Event, and it was uncertain how successful it would be. But the crowds on hand for Friday's Welcome Speed Cup gave an inkling that eventing fans were all it. Saturday, 10,635 enthusiastic spectators filled the stands of Rolex Stadium, making it a night to remember.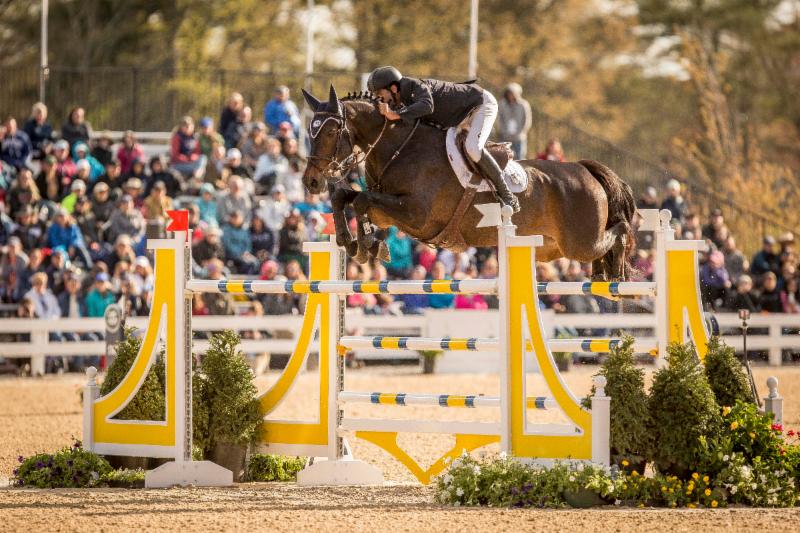 Santiago Lambre of Mexico won the inaugural $225, 000 Kentucky CSI3* Invitational Grand Prix aboard Dingeman. (c) Redbaystock.com
"I only remember something like this when I was last in Aachen 20 year ago," Lambre said.
"I'm very happy to be here," agreed Jobs. "It's an amazing show. I've never competed in an atmosphere like this, it's incredible. They filled the stadium, I've never seen it like that before. And, it's so fun to see a different discipline and be in such an incredible place."
"Yesterday was a small prelude to today," Swail said. "It's absolutely amazing the atmosphere here. It's great for us to compete in such a great stadium and be part of such a fabulous event."
The competition format featured two rounds, with cumulative scoring and the top ten from the first round advancing to the second round. However, as the top ten all jumped clear in the first round, and the top four jumped clean in the second round, the winner was determined by their time in the second round.
Jobs went early in the order, and she knew she had only one option. "I was just thinking I had so many amazing riders behind me that I should go for it and give it my best shot," she said. "I didn't get to see his round, but I'm pretty sure the turn to vertical number nine is where (Santiago) got me. Going in, I just tried to ride my mare as fast as I could."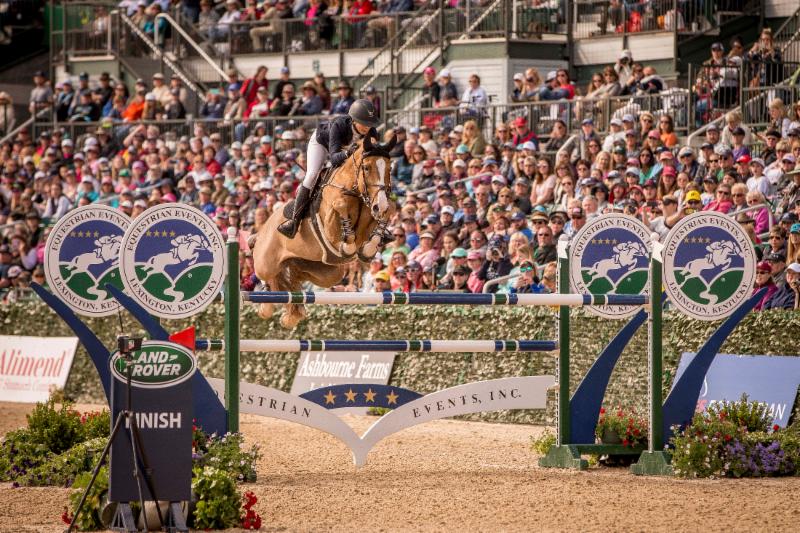 Eve Jobs and Venue D'Fees Des Hazalles flew to second place in the Kentucky CSI3* Invitational Grand Prix. (c) Redbaystock.com
Lambre went fourth, and he concentrated on making tight turns. "I knew Eve had gone fast, so I tried to go really fast and turn tight to number nine," he said. "I think that was the difference."
Swail was clearly thrilled with his mount and their performance. "I had (the advantage of a) later draw, but he's a little slower mover than (Jobs' and Lambre's horses)," he said. "We have so many fast, tough riders here. I was trying to do all the stuff I can, ??but my horse is a little slower through the air and in the canter step. I'm absolutely thrilled with my horse and how he is doing everything I am asking him to do. Whether I'm first or tenth, ??he was fantastic today so I'm happy for the horse and the owners."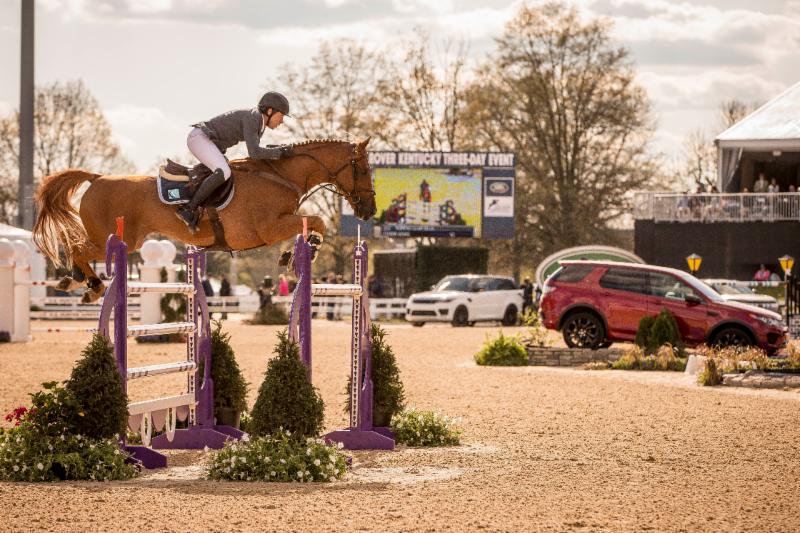 Ireland's Conor Swail finished third in the Kentucky CSI3* Invitational Grand Prix riding Rubens LS La Silla. (c) Redbaystock.com
Equestrian Events, Inc. president Stewart Perry was on hand to give the event a ringing endorsement. "I have a prejudice in this because I own a show jumping horse and my daughter is a show jumping rider," he said. "But our spectators have told us they want something else to do. The reining worked. The concert (last year) worked. ??But clearly, the show jumping is a truly outstanding addition. We're thrilled. EEI is proud to have (show jumping producer) Derek Braun as our partner and we are strongly looking at doing this again next year."
"Show jumping in general can be an exciting sport," Braun said. "And the platform of the three-day is really second to none in America. To combine them was a natural fit. I'm honored and humbled to be a part of it. This is the type of event that can progress our sport forward, and I think we can create something even more exciting."
About the Land Rover Kentucky Three-Day Event:
The Land Rover Kentucky Three-Day Event is the nation's premier three-day event. Known as "the best weekend all year," this multi-day competition features the world's best horses and riders vying for their share of $400,000 in prize money, as well as a shot at the $350,000 Rolex Grand Slam of Eventing which is awarded to any rider who wins the Land Rover Kentucky, Mitsubishi Motors Badminton and Land Rover Burghley Four Star Events in succession. Land Rover Kentucky is one of only six annual Four Star Three-Day Events in the world and the only one in the Western Hemisphere.??
This event also serves as the Land Rover/USEF CCI**** National Championship for the American riders.
Also featured as a part of the competition is the Dubarry of Ireland Nations Cup Team Challenge, with each team vying for $20,000 in prize money. Four teams will line up for their share of the winnings.
The Land Rover Kentucky Three-Day Event will be broadcast on NBC on Sunday, May 6, from 2:00 to 3:00 p.m. EDT. It will also be broadcast on the Olympic Channel on May 26, from 3:00 to 4:00 p.m. EDT. USEFNetwork.com will livestream the competition in its entirety. Competition will also be archived and available on demand.
Spectators can also shop at the Sponsor Village and International Trade Fair with almost 200 booths and tents. Land Rover Kentucky also features tailgating, glamorous camping "glamping", and Champions Live! on Sunday morning.
For further information:??www.kentuckythreedayevent.com??