Girl Scouts of Southeastern New England Dedication of New Cabin at?? Camp Hoffman: ???Dever???s Rest??? in Memory of Harriett Dever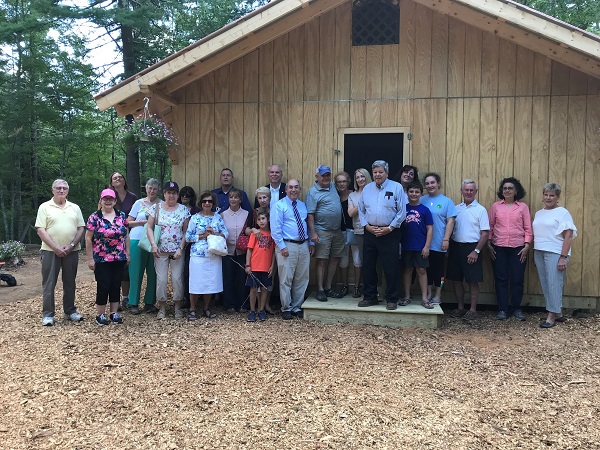 [Warwick, RI] ??? On August 9th, 2018 friends and family traveled from near and far to gather at Camp Hoffman for the dedication of a new cabin, Dever???s Rest, which was made possible by a generous gift from F. Harriett Dever.??
Harriett was a life-long Girl Scout, first as a camper, then counselor, troop leader and volunteered as President of the Girl Scouts Leaders Association. Harriett loved Girl Scouting and Camp Hoffman. Notably, she loved Camp Hoffman so much, she chose to work at a school just so she could have summers off and return each year to Hoffman.??
Before her passing Harriett generously decided she wanted to give something back to the camp she loved.
Her hope was that future generations of girls could enjoy the same outdoor experiences she had as a girl, and continuing into adulthood.
The cabin named in her memory, Dever???s Rest, can accommodate up to 20 girls and 4 leaders/counselors and will be available for troop camping in the spring of 2019.
After the dedication, dear friends and family enjoyed a lovely reception at nearby Wellville, shared stories and memories of Harriett, and all agreed -??Dever???s Rest is a wonderful legacy to Harriett???s memory and a beautiful reminder of what was close to her heart.??
To learn more about GSSNE camp properties and GSSNE, visit www.gssne.org.?? ?? ?? ?? ?? ?? ?? ?? ?? ?? ?? ?? ?? ?? ?? ?? ?? ?? ?? ?? ?? ?? ?? ?? ?? ?? ?? ?? ?? ?? ?? ?? ?? ?? ?? ?? ?? ?? ?? ?? ?? ??
About Girl Scouts of Southeastern New England:??
Girl Scouts is the world???s preeminent girl leadership organization where, in an accepting and nurturing environment, girls build character and skills for success in the real world.
Girl Scouts of Southeastern New England, in partnership with 2,700 adult volunteers, serves 6,000 girls from Rhode Island, thirteen communities in southeastern Massachusetts, and Pawcatuck, CT.
For additional information, please visit www.gssne.org, follow @GirlScoutsofSNE on Twitter, and like us on Facebook at www.facebook.com/GSSNE.