2019 South Coast Artists Members Invitational Exhibit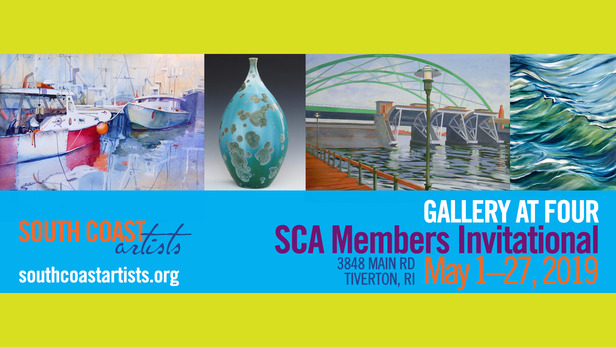 When: May 1-27, 2019
Opening Reception: Saturday, May 4, 4-7pm
Where: Gallery at Four, 3848 Main Rd., Tiverton, RI 02878
Hors d'oeuvres & refreshments provided by Coastal Properties Group
We are pleased to invite you to the 2019 South Coast Artists Members Invitational Exhibit, hosted by Gallery at Four in Historic Tiverton Four Corners. The exhibit runs from May 1-27 with an opening reception Saturday, May 4 from 4-7pm Sponsored by Coastal Properties Group. 
The exhibit will feature over 100 pieces of art created by 49 South Coast Artists Members. The variety of work includes: oil and acrylic paintings on board, paper, canvas, fabric and wood; works in colored pencil, ink, mixed media, pastel and watercolor; encaustics; jewelry in sea glass and stainless steel; fabric collage, felted wool and weaving; works in metal and with recycled materials; crystalline glazed porcelain.  

This year we are exhibiting artwork by Michelle Sherman, who will be graduating from Dartmouth High School in June, and was awarded the 2018 South Coast Artists' annual grant from its Memorial Education Fund. Sherman used the grant to purchase a drawing tablet, used for digital illustration. She has been using the tablet to further her study in her second advanced placement art class. She will begin studies at Massachusetts College of Art and Design in the fall, where she will study digital design and animation.
Please join us to celebrate the vibrant work created by talented artists who live & work on the South Coast.