HOPE & MAIN AND COMMON FENCE MUSIC PRESENT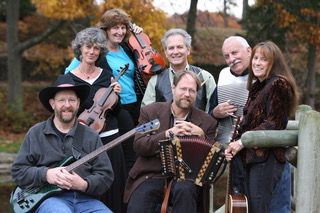 MAGNOLIA
Warren, RI – Common Fence Music and Hope & Main are excited to announce that they will be partnering this summer to bring a free concert series to Hope & Main's Schoolyard Market, located at 691 Main Street, Warren, RI, 02885, every 2nd-to-last Sunday of the month, June-September 2019.
The market will be open from 9 am-1 pm, while live music and activities will be presented from 10 am-12:30 pm. Sponsored by Blount Fine Foods and Pawtucket Credit Union, the series will feature a diverse range of talented acts from Rhode Island and Massachusetts alongside Hope & Main's eclectic array of member businesses, local farmers and artisans.
Adults are invited to enjoy brunch beverages in the beer garden while kids build their own instruments in the family craft tent. With outdoor games and – of course! – delicious fresh food, this monthly series is sure to offer a fun and enriching Sunday morning experience to attendees of all ages.
For more information about the Common Fence Music concert series, please visit 
https://www.commonfencemusic.org/.
More information about the Hope & Main Schoolyard Market is available at 
https://makefoodyourbusiness.org/markets/.
The Schoolyard Series kicks off on Sunday, June 23rd, 2019, 10am with a performance fromRhode Island's own hometown Cajun band, Magnolia. This energetic five-piece ensemble has been a favorite in New England for almost 30 years. Having learned from some of Louisiana's finest musicians, the talented members of Magnolia are known for their upbeat two-steps, sultry waltzes and soulful Cajun French vocals. Featuring Alan Bradbury on accordion, Michelle Kaminsky and Chris Ash on fiddles, Maggie Moniz on guitar and Warren resident Jack Ezikovich on drums, Magnolia brings a bit of the bayou to the Schoolyard Market!
For more information about Magnolia, please visit 
https://magnoliacajunband.homestead.com/.
The series continues on Sunday, July 21st, 2019, 10am with Boston-based West African/Caribbean quartet Kalfou. Led by internationally-educated percussionist Kera Washington, Kalfou bridges cultures, generations, and continents with captivating rhythm and song of the African-diaspora. Reconnecting Haitian music, Jamaican roots reggae, Afro-Brazilian samba, Afro-Cuban son, West African highlife, and African American spirituals, blues, jazz and neo soul, Kalfou honors its influences while creating an original sound. 
For more information about Kalfou, please visit 
http://www.zilimisik.com/html/.
We're bringing the spirit of the street fair to the Schoolyard Market on Sunday, August 18th, 2019, 10am with Latin band Robertico Arias y su Alebreke! Born in the Dominican Republic, Latin percussionist, vocalist and bandleader Luis "Robertico" Arias has been performing professionally since his teens. He has toured internationally with such bands as Los Hijos del Rey, El Equipo de Dioni Pernandez, Boni Cepeda, The New York Band and La Gran Manzana, and recorded with such artists as David Byrne. He and his band Alebreke have become Rhode Island institutions with their energy-filled performances of salsa, bachata, cha cha and merengue. You'll dance from vendor to vendor at this high-energy market! 
For more information, please visit 
http://www.rilatinoarts.org/RoberticoArias.html
There's no better side dish to the best of local barbecue than a good helping of bluegrass, which is why we're celebrating both at the Sunday, September 22nd, 2019, 10am Schoolyard Market! Four Bridges is a hard driving southern New England-based bluegrass band. Their four members tear it up with a mix of original songs, traditional bluegrass tunes, and some tasty covers. With their down-home feel and high energy, they are always a good time.
For more information, please visit 
http://fourbridgesband.com/the-band/.
Common Fence Music is a nonprofit arts organization dedicated to preserving and celebrating diverse folk music traditions by creating community-based opportunities for cultural exchange. By presenting live folk and world music performances, workshops and other educational programs for the past 26 years, Common Fence Music builds connections between Rhode Island communities and regional, national and international musical artists. These programs foster dialogue and engagement, opening the door to greater understanding of individual and shared artistic expression, personal enrichment and improved wellness. Based in Portsmouth, RI, Common Fence Music is funded in part by the Rhode Island State Council for the Arts, and was voted Best Live Music Venue – Newport County 2018 in Rhode Island Monthly's Readers Poll. They been presenting live music performances at Hope & Main since 2017.
Hope & Main is a nonprofit culinary business incubator that supports food entrepreneurs as they launch and grow their companies. Their facility is based in a 100-year-old elementary school building in Warren, RI and their mission is to help local entrepreneurs jump-start early-stage food companies and food related businesses by providing low cost, low risk access to shared-use commercial kitchens and other industry-specific technical resources. (FMPP Partnership).  As part of this mission they help expand the local food economy by hosting a weekly farmers market on the grounds of their facility. 
Held from 9 am to 1 pm every Sunday from June 16th to October 27th, 2019, The Schoolyard Market features products from current Hope & Main member businesses and local farmers and artisans. It is funded in part by a USDA Farmers Market Promotion Program Grant and accepts SNAP, WIC, and Senior Citizen Vouchers as payment. It is conveniently located at the Hope & Main facility at 691 Main Street, Warren, which is on a Rhode Island Public Transportation Bus route and an intersection of the well-loved East Bay Bike Path. Free parking is available in the Warren municipal lot on Franklin Street.