Opening this weekend!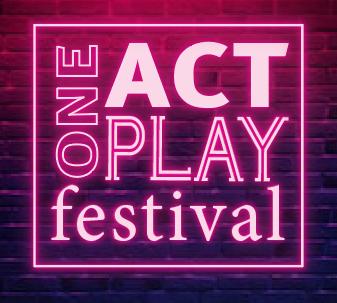 14th Annual One Act Play Festival
July 11 – 27
Join us for our 14th annual festival featuring 10 great plays:
Comedies, dramas, and family-friendly fun!
Theatre 82 – 82 Rolfe Square
Thursday, Friday, and Saturday evenings at 7:00 pm
Show runs 2 hours with one 15-minute intermission
Artistic Direction by Jessica Chace
2019 Play Selections
Game Changer, by Kay Ellen Bullard (Lincoln, RI)
Parents Michelle and Martin have something to tell their thirty-one year old son Marty, who still lives with them. They start by persuading him to play Scrabble with them. Unlike any Scrabble they've played before, it will be a game changer for them all.
Top Shelf Tolstoy , by Maximillian Gill (Sunnyside, NY)
Erica just wants to check out a copy of her favorite Tolstoy novel, but she discovers that her local library has resorted to drastic means to raise funds.
Up in the Air, by Ben Jolivet (Providence, RI)
From this height, things are clearer—but that doesn't make them easier.
FOMO, by Rhea MacCallum (Downey, CA)
A woman suffers an existential crisis after spending too much time obsessing over social media posts.
/ärt/, by Steven G. Martin (Lafayette, IN)
Emotions run high in the judges room during an art competition. Two judges implore the third to vote in favor of the artwork they prefer, and when the artists are invited for interviews, chaos erupts.
When I Grow Up , I Want to Be a Christmas Tree, by Rich Orloff (New York, NY)
A child decides what the best possible adulthood would be… and transforms in the process.
Family by Numbers, by Arianna Rose (Miami Beach, FL)
Two people fall in love. They begin a family. But what happens as the numbers change?
Putt-Putt, by George Sapio (Spencer, NY)
Jeff's new marketing brainstorm is Christian-themed minigolf. What he doesn't know is that the idea strikes a little too close to home amongst his officemates.
The Stand, by Caity-Shea Violette (Boston, MA)
After surviving years of abuse, Alicia is behind bars for her husband's murder. When she's offered a deal by the DA, she must make an impossible choice.
The Monster Under the Bed, by Joseph Vitale (Denville, NJ)
A father tries to assuage his daughter's nighttime fears, although he has never gotten over his. He's on his way to convincing her that she shouldn't be afraid…then the monster shows up.
Mark your calendar: Talk-Back Performance on Saturday, July 20.
Join us for a talk-back with some of our playwrights, directors, and actors following the performance on July 20. Learn more about the plays, playwrights, and behind-the-scenes of the festival. Playwrights Kay Ellen Bullard ( Game Changer), Maximillian Gill ( Top Shelf Tolstoy), Ben Jolivet ( Up in the Air), and Caity-Shea Violette ( The Stand) will be in attendance. Talk-back is free and open to the public.
The One Act Play Festival (OAPF) is an all-inclusive community theater event celebrating creative collaboration of playwrights, actors, musicians, visual artists, and technical theater artists. First formed in 2006, the festival enriches and entertains the Cranston and Rhode Island communities.
Thousands of short plays are submitted from regional, national, and even international playwrights and then selected for performance by a panel of theater professionals. Casts feature community actors of all abilities ranging in sex, age, and experience levels; amateur and professional actors, writers, and technicians of all ages and abilities work together in creative harmony.