25TH ANNUAL PHONE-A-THON TOPS $2 MILLION RAISED FOR SCHOLARSHIPS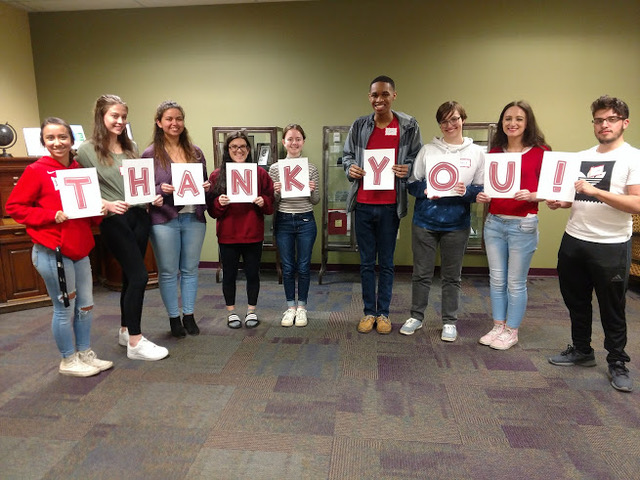 Students who participated in Scholarship Foundation of East Providence's recent phone-a-thon thank the community for their generous support. 
The 25th annual community-wide phone-a-thon sponsored by Scholarship Foundation of East Providence set milestones for the local volunteer group. The recent phone-a-thon topped their $100,000 goal. Thanks to the support of local families, businesses and organizations, more than 100 students from East Providence will receive scholarships of $1100 or more this year through the phone-a-thon. In addition, this year's donations increased the total phone-a-thon contributions for the past 25 years to more than $2 million in scholarships for city residents.
            Volunteers spent two evenings in March making calls to East Providence residents and raised $65,000. The Carter Fund matched the first $45,000 received. The total amount of $110,000 will be awarded this year as scholarships to high school and college students living in East Providence.
 Volunteers Taylor Babcock and Katrina Martin helped to raise $110,000 in scholarships at this year's phone-a-thon.
Students from East Providence High School, as well as college students who were past scholarship recipients and their families took part in the fundraising event. Representatives of community groups and board members of Scholarship Foundation of East Providence joined in contacting thousands of East Providence residents.
             "We are truly grateful for the generous response," stated Phone-a-thon Chair Louise Paiva. "We appreciate the support of so many families, organizations, schools and businesses in our community to assist East Providence students over the past two and half decades," she said.
            Nineteen new scholarships and book awards were initiated this year through the phone-a-thon. New scholarships of $200 or more include Anna Burns, Canonicus Lodge #9 IOFF, Lois Carlson, Chalmers Family, DellaRosa, Christopher Daft Family, David and Deborah Britto, George Caruolo, Eugene and Christine Johnson, Michael and Dana Silveira and William Gudiatis Scholarships. New memorial scholarships include thos in memory of David and Lynn Angell, Barbara and Ed Cronan, Chris Beatrice sponsored by Kent Heights PTA and East Providence High School Hall of Fame. New book awards of less than $200 include Capron Family, Lillian Damiani Estrella/Mandy Damiani, Mackevich Family and Nelia and Joseph Silva Book Awards.
          Six East Providence schools participated in Dress Down Days and made their contributions during the phone-a-thon. In addition, employees of East Providence School Department Administration, Faculty and Staff  took part again this year. Five school PTAs also supported the phone-a-thon effort. Together, school-related organizations raised more than $9,700.
          Eight past classes of East Providence High School contributed or sent volunteers to the phone-a-thon to make calls to increase the amount they award. Alumni from East Providence High Schools Classes of 1950, 1955, 1962, 1964, 1965, 1973, 1974 and 1985 collectively raised nearly $14,000 in scholarships.
            The Scholarship Foundation acknowledged the continuing support Nordson EFD. The phone-a-thon is held at their Catamore Boulevard facility and the company provides phone access, postage and refreshments for volunteers.