DC TO MANCHESTER, NH WILL SET RECORDS?
While actual temperatures will be higher in Death Valley, humidity levels will make it feel as hot or hotter than the Southwest in parts of the Central and Eastern states.
AccuWeather Global Weather Center – July 18, 2019 – The northeastern United States will sizzle this week as summer heat builds to near-record levels in some places, with many metropolitan areas experiencing the hottest air temperatures of the summer so far as a heat wave envelopes a wide swath of the United States.
In the nation's capital, AccuWeather RealFeel® Temperatures on Saturday are forecast to reach 110 F, just 2 degrees shy of the RealFeel Temperature forecast for Death Valley, California, on the same day. Washington, D.C., will also swelter with a forecast high of 100; however, the nation's capital likely won't break its daily and all-time high of 106 hit on July 20, 1930, about 12 years after the mercury hit 106 in 1918. However, this is forecast to be the first triple-digit heat to grip the nation's capital since the summer of 2016.
"The combination of sunshine, temperature, humidity levels and other factors will push RealFeel Temperatures well into the danger level past 105 degrees during the late morning and afternoon hours," AccuWeather Senior Meteorologist Brett Anderson cautioned.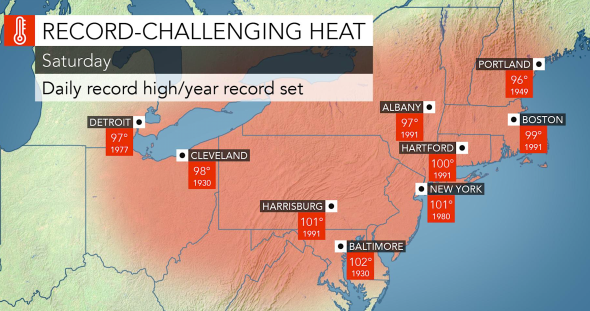 On Wednesday, Philadelphia and New York City followed suit and declared emergencies due to the heat. According to a press release New York City Mayor Bill de Blasio's office, approximately 500 cooling centers have been activated around the city.
"Actual temperatures in some of the major cities, such as Washington, D.C., Baltimore, Philadelphia and New York City are likely to peak within a few degrees of the century mark at the peak of the heat wave this weekend," Anderson said.
Intense July sunshine combined with a northward retreat of the jet stream will allow an impressive heat wave to build even for midsummer standards for many locations across the Northeast. At this level, temperatures will be 10-15 degrees above average even for the middle of the summer.
"Cooling demands will surge with the intense heat wave," according to AccuWeather Lead Long-Range Meteorologist Paul Pastelok.
Among the cities that could break or challenge records on Saturday is Manchester, New Hampshire, which is forecast to hit the century mark. The daily record high in Manchester for July 20 is 94 F set in 1949. Manchester's all-time record is 103, set on July 22, 2011.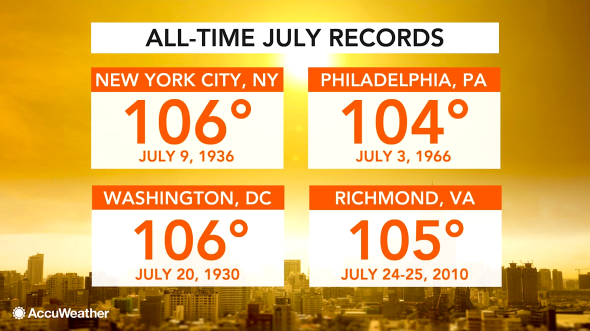 About AccuWeather, Inc. and www.AccuWeather.com
AccuWeather, recognized and documented as the most accurate source of weather forecasts and warnings in the world has saved tens of thousands of lives, prevented hundreds of thousands of injuries and tens of billions of dollars in property damage. With global headquarters in State College, PA and other offices around the world, AccuWeather serves more than 1.5 billion people daily to help them plan their lives and get more out of their day through radio, television, newspapers, smart phones, tablets, connected TVs, the AccuWeather Network and www.AccuWeather.com. Additionally, AccuWeather produces and distributes news, weather content, and video for more than 180,000 third-party websites. Among AccuWeather's many innovative and award-winning features available free to the public are MinuteCast® Minute by Minute™ forecasts with Superior Accuracy™.  Furthermore, AccuWeather serves more than half of the Fortune 500 companies and thousands of businesses globally. Dr. Joel N. Myers, Founder and Chief Executive Officer, established AccuWeather in 1962 and is considered the "father of modern commercial meteorology." Dr. Myers, a leading creative thinker and visionary, has been named "the most accurate man in weather" by The New York Times and one of the top entrepreneurs in American history by Entrepreneur's Encyclopedia of Entrepreneurs.
AccuWeather, RealFeel, MinuteCast, are all registered trademarks of AccuWeather, Inc. AccuWeather RealFeel Temperature, AccuWeather RealFeel Temperature Guide, AccuWeather RealImpact, AccuWeather RI, AccuWeather Network, Minute by Minute and Superior Accuracy are all trademarks of AccuWeather, Inc. All other trademarks, product names and logos are the property of their respective owners.
 
The AccuWeather app for Android phone and tablet users is free at the Google Play store. The AccuWeather iOS app is free at www.AppStore.com. Visit www.accuweather.com for additional information.