CRANKING & SKANKING FEST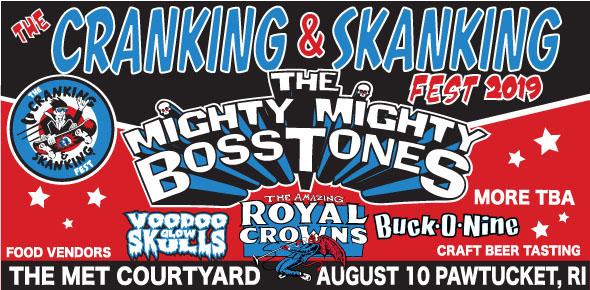 With The Amazing Royal Crowns, Voo Doo Glow Skulls,
Buck-O-Nine, Craft Beer, and Food Trucks
Saturday, August 10, The Met Courtyard, Pawtucket, RI
The Mighty Mighty BossToneS proudly announce their second annual CRANKING & SKANKING FEST is Saturday, August 10, at The Met Courtyard in Pawtucket, RI. In addition to The BossToneS the show will feature a rare appearance by The Amazing Royal Crowns
plus Voodoo Glow Skulls, and Buck-0-Nine.
Tickets are $37.50 and are available at  www.themetri.com , the Strand box office, Round Again Records, In Your Ear, Empire Guitars, and The Met. Seating is general admission. All ages are welcome, must be 21 to drink. Doors open at 5pm and will feature local craft beer and food vendors.
"We pay our respects, tribute to our home town–the great city of Boston–annually with our holiday event The HomeTown ThrowDown," shares BossToneS front-man Dicky Barrett. "So we decided to hold a summer-time ska/punk festival in various New England cities every year—great, tough, hard-working cities like Brockton (Massachusetts), Portland (Maine), Nashua (New Hampshire) or New Haven (Connecticut). Last year The Cranking & Skanking Fest's maiden voyage, in Worcester (Massachusetts) went off without a hitch—and–with a bang, so let's go! Pawtucket, Rhode Island 2019–you're up."
Last summer The BossToneS launched the inaugural Cranking & Skanking Fest as the first concert held outdoors at The Palladium in Worcester, MA, and featured Toots & the Maytals, Fishbone, The Pietasters, Bouncing Souls, Planet Smashers, Big D & the Kid's Table, Doped Up Dollies, and more.
About The Amazing Royal Crowns
Equal parts Rockabilly, Punk Rock and Rock N Roll, The Crowns exploded onto an unsuspecting Rhode Island scene in 1993 and wasted no time in hitting the road with their raw, hyper kinetic sing-alongs and their explosive live show. The self-described punkabilly band toured the world for the next 8 years, sharing the stage with label-mates Social Distortion and Reverend Horton Heat, as well as other artists like The Mighty Mighty Bosstones, Dropkick Murphys, X, Tiger Army, Hank III, The Specials, The Misfits, and many more. Throughout their career, The Crowns released multiple singles, EPs and 3 full-length albums. They recorded for multiple labels (Sub Pop, Time Bomb and BMG to name a few). They've endured lawsuits, broken bones, accidents and band fights all in the name of blood, sweat & grease–and they never regretted any of it. https://www.facebook.com/AmazingRoyalCrowns/
About Voodoo Glow Skulls
The Voodoo Glow Skulls have an impressive list of achievements. 9 albums, one million records sold, appearances in exotic locations like Brazil and Japan as well as the creation of a record store, record label, recording studio and a music venue attests to the remarkable creativity and energy of the band. Formed in 1988, Voodoo Glow Skulls meshed hardcore punk, traditional ska, tough guitar riffs and the Mexican music of their roots to create the prototype for the West Coast ska-core sound. Unflinchingly honest, their songs often used humor to comment on harsh political realities – from racial inequity to unrest overseas. Singing in both Spanish and English, Voodoo Glow Skulls' bilingual musical tradition has been a hallmark of the band since they began. https://www.voodooglowskullsofficial.com
About Buck-O-Nine
Don't call it a comeback because Buck-O-Nine never left us. Since forming in San Diego nearly three decades ago, the celebrated ska-punk septet have continued to consistently perform live to fans both old and new. In that spirit FunDayMental, their first album in 12 years, proves that time has only made their songwriting skills stronger. The band's sixth full-length sees them once again combining elements of reggae, rocksteady, rock and punk into a unique amalgam of music that the act has pioneered since 1991. Amazingly, their lineup also features six out of seven founding members and their "newest" musician, bassist Andy Platfoot, has been in the band for 19 years. That sort of history makes Buck-O-Nine less of a band than they are a family and that dynamic is evident on all 14 songs on FunDayMental, which includes the band's new material alongside reworked versions of fan favorites "My Town" and "Irish Drinking Song." http://www.buckonine.com/
About The Mighty Mighty BossToneS
The Mighty Mighty BossToneS became the ambassadors of the 90s ska explosion by forging new territory and being one of the first, if not the first to cross high-energy ska with hardcore punk. Over a 30-year career Boston's best dressed band has built and continue to build a devoted following with their unique brass-infused brand of punk rock.
The band started to make a lot of noise which garnered major label attention and in 1993, the BossToneS signed a major-label deal with Mercury Records and released Don't Know How to Party, and 1994 saw the band paying homage to their hardcore roots with a mini-album titled, Ska-Core, the Devil and More, as well as the full-length Question the Answers. A year later, the Boston boys were coerced into appearing in the film Clueless, which has since become a cult classic, performing "Where'd You Go," and "Someday I Suppose," two of their most popular songs to date; they also landed a main-stage slot on that summer's Lollapalooza tour.
In 1997, Let's Face It become the band's biggest-selling album to date; certified platinum, buoyed by the success of the anthemic "The Impression That I Get."
While We're At It (2018, Big Rig Records), was released in June, the BossTones' first studio album in nearly ten years. Produced by Tim Hutt, Barrett describes the collection as "angrier than expected. It's an honest record. In this climate I can't just say, 'Hey, let's all be cheerful and put on our ska shoes.'" Barrett went on to explain how the current climate in politics is a driving force behind its poignant and at times, heated sound: "It feels like unhinged hatred. And the wheels are coming off, but not fast enough for me. For me the whole thing is just lies on top of hatred on top of really stupid thinking. So yes, all that is going to get into the music. It has to."
In 2003, with individual members already involved in other projects and the band essentially having toured non-stop since 1991, they announced they were going on hiatus. During this time, frontman Dicky Barrett became a staple as the announcer on ABC's late-night talk show Jimmy Kimmel Live.
The Mighty Mighty Bosstones
Dicky Barrett, vocals
Joe Gittleman, bass
Lawrence Katz, guitar
Chris Rhodes, trombone
Tim "Johnny Vegas" Burton, saxophone
John Goetchius, keyboard
Joe Sirois, drums
Leon Silva, saxophone
Ben Carr, Bosston