SEPTEMBER 12, 2019

North Dighton —On Thursday, September 12, 2019 at 2:30 p.m., Cooperative Production, Inc., ("CO-OP"), a non-profit organization assisting adults with intellectual and other disabilities, and Taunton Community Access Media ("TCAM") invite the public to attend a free film screening of Intelligent Lives, a documentary film by Dan Habib.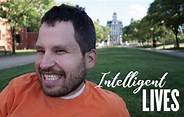 Mr. Habib is with the Institute on Disability at University of New Hampshire and this is just one of the films he has created on disability-related topics. The viewing will be held at TCAM's studio at 120 Ingell Street, Taunton.

Intelligent Lives stars three pioneering young American adults with intellectual disabilities – Micah, Naieer, and Naomie – who challenge perceptions of intelligence as they navigate high school, college, and the workforce.
According to CO-OP President and CEO, Joyce Faria, "Transitioning from a school setting to the community is an important time for individuals and their families. Big decisions around daily life, including education, work or community volunteerism present many options. In this film, we see the choices three people have made which may be of interest to families who are making plans for their transition-age young adults. It is also an opportunity for those of us assisting individuals to learn from others' experiences. We hope the community will join us for this informative and inspirational documentary."