MANY SUMMER VISITORS AND FRIENDS
The Old Hornbine School House, Rehoboth's one-room school museum will be open to the public Sunday, September 8th, from 2 – 4 p.m. The one-room school museum has been open to the public since its restoration in 1968 as part of the 325th Rehoboth Celebration.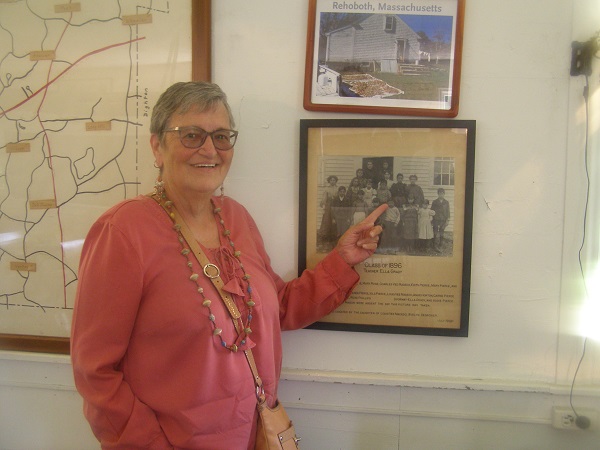 Elizabeth Roy pointing to her grandfather Luis Macedo when he was a student at the Hornbine School in 1896.
During the past fifty one years, we have had visitors from almost every state and many countries. Dozens of these guests have shared their experiences while attending a one-room school when they were students.
This summer, Elizabeth (Macedo) Roy visited us. Her grandfather, Luis V. Macedo attended the Hornbine School in the 19th century. We have a class picture taken in 1896 when Luis Macedo was a student at the school.
During her visit, Elizabeth discovered that she was a second cousin to Frances Jones.
Frances attended the Hornbine School and continues to visit during open houses. Her visits and stories are always a big attraction with all the students who reenact a day at the school.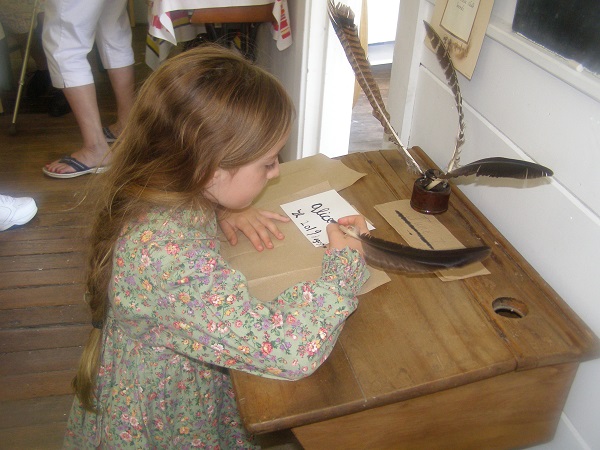 Alice Boissonneau, age seven, from Dighton using a feather ink pen.
Recently, Alice Boissonneau, age seven, from Dighton visited the school. She has always loved reading Little House on the Prairie books.
For the past three years, she has visited the school with her family.
Alice comes dressed for the occasion in a long dress and high top laced shoes. She enjoys writing on slates with a slate pencil, using a feather ink pen and playing several "old fashioned" outdoor games.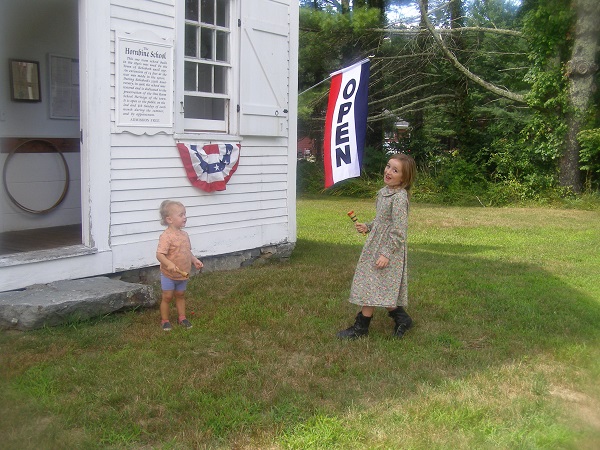 Alice playing "ball in cup" outside the school with her young brother.