Last Three Weeks of Weaver's Farmers' Market are Packed!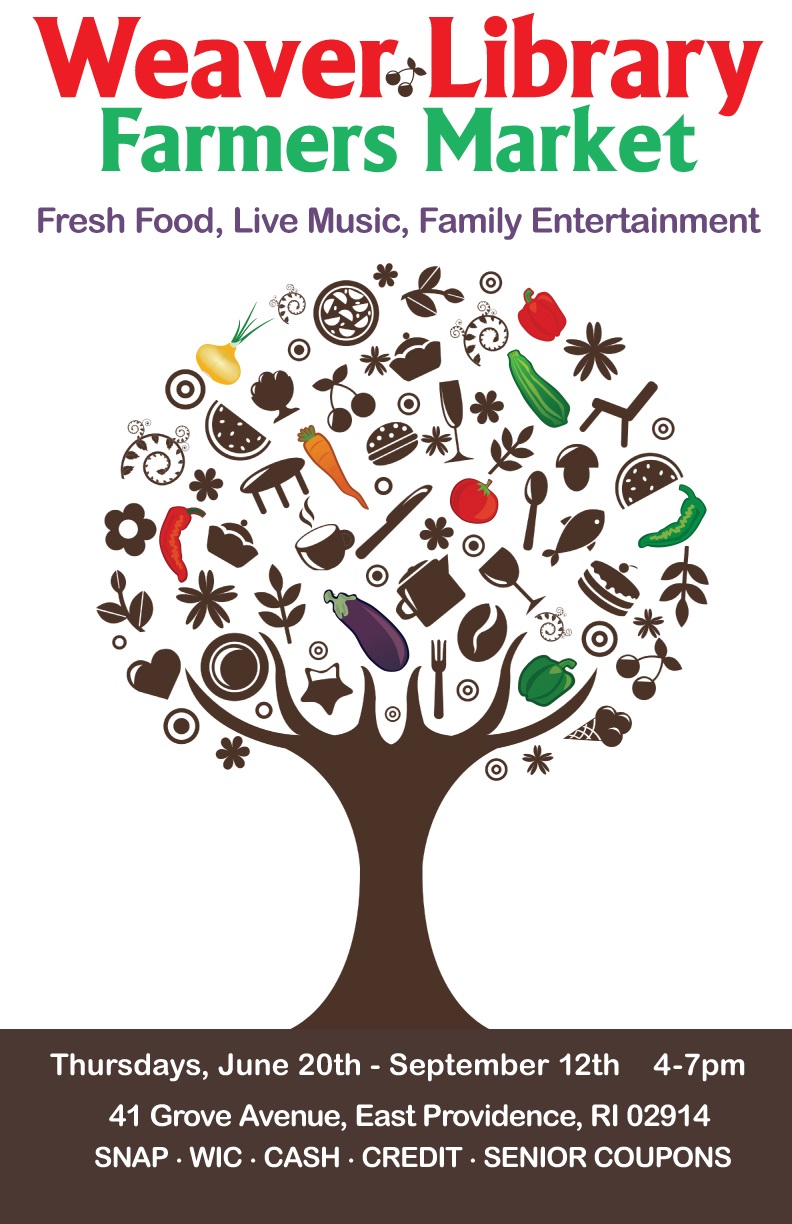 EAST PROVIDENCE, R.I – If you haven't made it to the Weaver Library Farmers' Market yet this summer, now is the time to go!  
The last three markets – Thursdays, August 29th, September 5th, and September 12th – are packed with live music, Imagination Playground, food demonstrations, knife sharpening, and live alpacas from 4 -7 pm.
On August 29th, we are proud to present the "Tuna Academica Masculina da Universidade dos Acores – Os Tunidos" in concert at 4pm at the market.  
Help us welcome the 29-member Orchestra that has traveled to RI from the University of the Azores.  Patty and Buster, aka Patty and Frank Silva, follow at 5pm to perform folk and "old-timey" favorites.   
Rhed's Hot Sauce creator Déjà Hart returns to do another popular food demo and offer samples of her tasty corn and bean salad.
Love pie, but afraid to make your own pie crust?  Baker Pam Fitzpatrick, owner of Mariska's, will show us how to make a pie crust from scratch at the September 5th market.
Sample some of Pam's pies, which you can find each week at the market. Rumford's own singer and songwriter Justin Marra will provide some awesome tunes for the day.
It is hard to see this beautiful season end.  Join us for our last market on September 12th and meet lovely alpacas from the Lazy K Ranch and see all their fabulous alpaca products. Need your knives or scissors sharpened?
B'Ladies, a small family business, does an awesome job.  Stock up on your favorite products for the holidays -potholders and market bags, honey, beeswax candles, coffee, soaps, hot sauce, and lots of items from the fabulous Harvest Kitchen. 
End the day by relaxing with one of our favorite musical duos – Cardboard Ox.
As always, the Market welcomes SNAP/EBT, WIC, Senior Farmers' Market Nutrition Program coupons, and credit or debit cards.
Thanks to a grant from Farm Fresh RI, SNAP customers can double their SNAP! For every dollar swiped, get a FREE dollar in Bonus Bucks for fruits and vegetables.
There are so many things to do, see, learn, and taste at your Library this summer.  Put the Thursday Farmers' Market on your calendar for the remaining three weeks.
Weaver Library is located at 41 Grove Avenue, East Providence, RI 02914. For more information, see the Weaver Library Farmers Market on Facebook,
eastprovidencelibrary.org 
or call 401-434-2453.