THE STEEL YARD OPENS FOR BUSINESS ON TUESDAY SEPTEMBER 17, 2019
The Steel Yard's Associate Director, Islay Taylor, Super Studio Capital Campaign Committee Chair, Clay Rockefeller, RI State Council on the Arts Executive Director, Randy Rosenbaum, Town of Bristol, Diane Williamson, Steel Yard Board of Directors Member, Lee Wesley
The Steel Yard Grand Re-Opening 
10:00 – 11:00 am, Tuesday, September 17, 2019
The Steel Yard, 27 Sims Avenue, Providence, RI 02909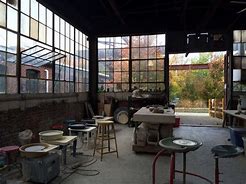 After months of anticipation the Steel Yard's industrial arts studios will open for business on Tuesday, September 17th at 10 am.
Renovation, restoration, and construction is complete and our 100-year old shop now stands ready to usher in the next 100 years. Heated, ventilated and more accessible, the Steel Yard now offers classes year-round in welding, jewelry, blacksmithing and ceramics.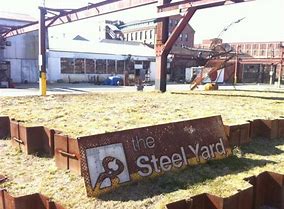 This is an opportunity for a first look at all departments. Come see how we've transformed our historic building without losing an ounce of its beloved grit. Amenities and fixtures are all products of Steel Yard makers and artisans. Join us and see for yourself what the future of the Yard is all about.
The Steel Yard is an award-winning industrial arts center and Providence's largest and most unique private outdoor venue. The 3.8-acre campus and studio, located in Providence's Industrial Valley, is a cultural asset that serves as a sponsor and catalyst for innovative approaches to urban revitalization, arts promotion, workforce development, and community growth.
The professional  allows for community access to equipment for welding, blacksmithing, jewelry, ceramics, and the foundry arts. The facilities at the Yard are a vital component in the careers of hundreds of independent crafts people and entrepreneurs who would not otherwise have the capacity to establish their businesses or perfect their crafts, while allowing educators the ability to teach students new skills in a creative and communal environment.
Over the last 10+ years, the Steel Yard has been integral to the arts community in Rhode Island by creating shared professional work space, introducing thousands of individuals to the industrial arts, and a creating a broader definition of public art.