Attleboro Fire Department to Host Open House During National Fire Prevention Week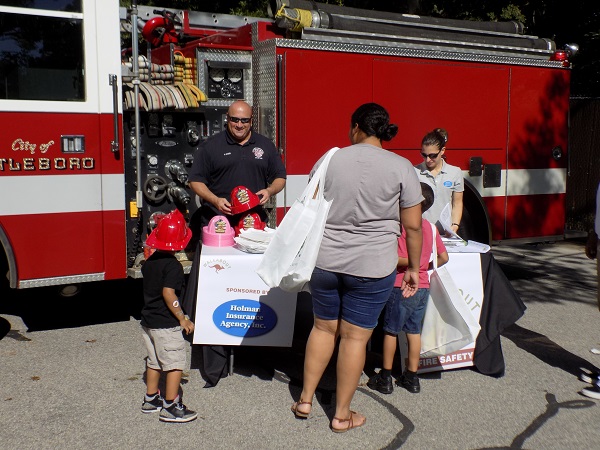 Attleboro Firefighter and SAFE Coordinator Paul Jacques hands out plastic firefighter helmets at the Attleboro Fire Department's 2018 open house. (Photo courtesy Attleboro Fire Department)
ATTLEBORO — Chief Scott T. Lachance and the Professional Firefighters of Attleboro Local 848 are pleased to announce that the Attleboro Fire Department will be hosting its annual open house as part of their programming for National Fire Prevention Week
Fire Prevention Week is coming up on Oct. 6-12. This year's theme, "Not Every Hero Wears a Cape. Plan and Practice Your Escape!" is aimed at educating everyone about the small but important actions they can take to keep themselves and those around them safe.
Saturday, Oct. 12 from 10 a.m. to 1 p.m.
South Attleboro Fire Station, 1476 West St., South Attleboro
The open house, sponsored by Papa Gino's, is aimed at teaching families fire safety and prevention practices. 
Those who attend will receive safety tips such as "stop, drop and roll," learn how to plan escape routes and how to crawl safely through a smoke filled room.  
In addition, Papa Gino's, the Attleboro-based pizza chain, will provide free pizza and children's fire safety coloring sheets.
"We hope to see a large turnout of families coming out to enjoy some pizza, spend some time at the station with our firefighters and learning about important fire safety tips," said Attleboro Firefighter and SAFE Coordinator Paul Jacques.
"We look forward to this event every year and it's a great way to get some face-to-face time with the residents we serve," Chief Lachance said.
For more information about the Attleboro Fire Department Open House, please contact Firefighter Jacques at 508-922-4394.