Standing Ovation Awards Gala – Saturday, November 16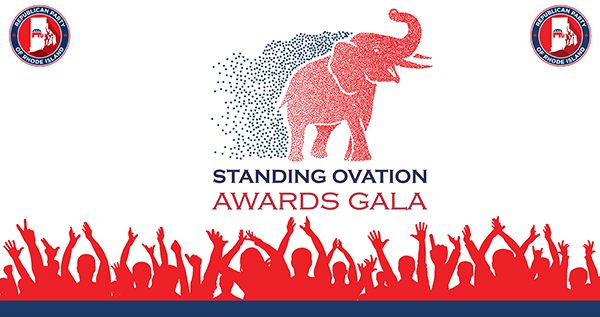 The Rhode Island GOP is proud to announce the first annual "Standing Ovations Awards Gala". The Standing Ovation Awards aim to honor the movers and shakers in the community, our business and government leaders who promote the mission and ideals of the Rhode Island Grand Opportunities Party (GOP). The Gala will include inductions into the already established Rhode Island Republican Hall of Fame.
This years recipients are: RI Representative, The Honorable Mary Ross; RI Senator, The Honorable June Gibbs, Martha Stamp, The Honorable Halsey Herreschoff­, The Honorable Anthony Giarrusso, Ken Block, Jim McGuire, Lee Ann Sennick, Sandy Winslow, Marion O'Brien, The Honorable Caswell Cooke, Matthew Martinez and The Honorable Bob Flanders.
"I am thrilled to host an event honoring many dedicated, time-tested Republicans who go above and beyond to promote conservative principles," said Sue Stenhouse, event chair. "So many unsung heroes have given their time and talents to candidates and issues. It is exciting to recognize Rhode Island Republicans that have engaged in numerous ways to keep good government discussions viable within the Ocean State."
"We are very excited for this event. We look forward to honoring such an esteemed group of Republicans for the work they have done for our state, while also raising money for our candidates to further those efforts in 2020 and beyond," said RI GOP Chairman Sue Cienki.
The Standing Awards Gala will be held Saturday, November 16th at 6:30PM and will be located at the Varnum Armory (6 Main St.) in East Greenwich, RI. Tickets for the event are $100 and can be purchased at www.ri.gop.