THE CHORUS OF WESTERLY PERFORMS HIGHLIGHTS
FROM HANDEL'S MESSIAH NOVEMBER 23 & 24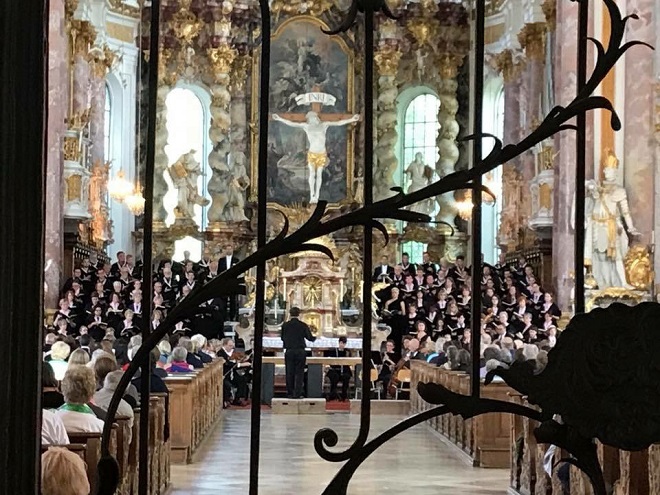 WESTERLY, RI – The soaring sounds of one of the most famous compositions of all time, G. F. Handel's Messiah, will fill Westerly's Kent Hall on Saturday, November 23, 2019 at 6 pm and Sunday, November 24, 2019, at 2 pm as The Chorus of Westerly and Handel Festival Orchestra join together to perform the beloved oratorio.
Conducted by Andrew Howell, the chorus and orchestra will be joined by special guest soloists Sarah Brailey, soprano, Dann Coakwell, tenor, and Mischa Bouvier, baritone. The performance itself will not be of the full Messiah. Instead, Mr. Howell has created an exciting program that will feature, in order, some of the best movements from all three parts of the masterwork, creating a concert approximately 75 minutes in length. The two performances will both take place in the historic George Kent Performance Hall, located at 119 High Street in downtown Westerly. Tickets are $21-$65 and are available in person or by calling the Kent Hall Box Office (401.596.8663) or online at chorusofwesterly.org. Student discounts are available by calling the box office directly.
It can be easily argued that Handel's Messiah is the most performed and celebrated choral work in all of western music (if not the world). 
Indeed, Messiah's soaring Hallelujah chorus (found at the end of its second part) may be, with Beethoven's Ode to Joy, the most well known piece of music ever.  The Royal Melbourne Philharmonic in Australia holds the world record for unbroken annual performances of Messiah, having performed the work at lease once annually for 167 years. 
Each December, when The New York Times lists holiday musical performances, there is almost always entire section entitled "Messiah and other oratorio performances."  It is a work of unending and seemingly timeless popularity.
This will mark the seventh time the Chorus of Westerly has performed at least all or part of Messiah here in Westerly since 1959.  Unlike many other choral organizations, the Chorus of Westerly does not program Messiah annually. 
Instead, the Chorus actively tries to program Messiah and offer it to the community once every ten years.  This is not for lack of love or energy for the work, but rather, this helps the Chorus present a "fresh" performance with a new interpretation every decade. 
It gives both the community and singing membership a chance to experience the oratorio at its very highest level. Founding director George Kent conducted Messiah with the Chorus six times in his 53-year tenure. This performance will mark current director Andrew Howell's first time conducting the masterwork with the Chorus.
"We are thrilled to be presenting Messiah this fall," states Ryan Saunders, executive director of the Chorus of Westerly.  "This is, by far, one of the most important and best works to be experienced in person. It is just extra special to hear it live with full chorus, orchestra, and soloists. We can't be more excited to offer it to the community just before the business of the holiday season arrives."