Postal Service Celebrates President's Day
Offices closed but services still available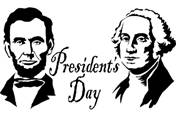 Massachusetts – Post Offices across the commonwealth will be closed on Monday, February 17 in celebration of President's Day. Retail offices will be closed with the exception of Fort Point Station at 25 Dorchester Ave in Boston and only Priority Mail Express and Guaranteed Overnight packages will be delivered.
Our 24 hour service kiosks across the state will be available, as will usps.com where you can initiate a forward, track packages, purchase postage or apply for a job right from the comfort of your home.
Normal delivery and retail operations will resume on Tuesday, February 18
The Postal Service receives no tax dollars for operating expenses and relies on the sale of postage, products and services to fund its operations.