Dear TLC Community,
Like all of you, The Literacy Center is closely watching the news and following updates from the Governor regarding the current public health crisis. Our goal is to do our part to help people stay home and stay healthy during this challenging time.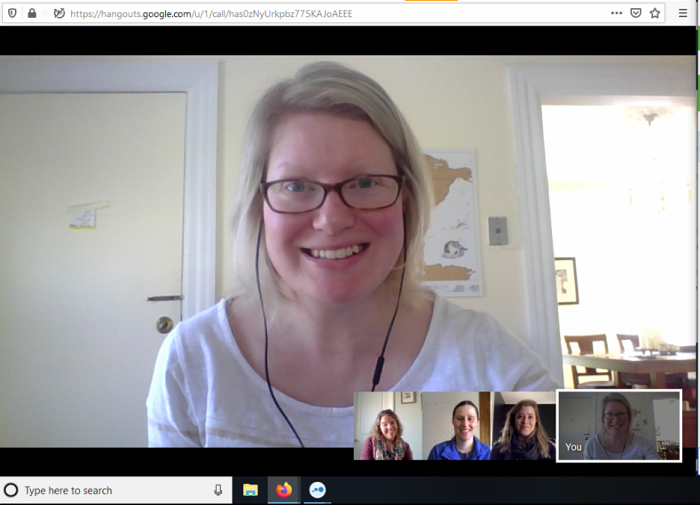 Here is the TLC administrative team at our morning check-in! We are using Google Hangouts to video chat in this picture. However, Zoom and WhatsApp are also great tools for video conferencing. We will send out more detailed options to our classes and to our tutors very soon.
We acknowledge that many of our students and volunteers are experiencing changes to their daily lives, including but not limited to loss of childcare, loss of employment, and financial hardship. Please know that our hearts go out to you and we are here for you via phone and email if you want to talk or need to locate community resources. I can be reached at (508) 399-1026 via text or call if you need anything.
Based on the current information that we have, we have made the decision to remain closed through Sunday, April 12th. This may change based on developments to the public health situation and I encourage you to check our website for the most up-to-date information.
However, while the building is closed, the TLC teachers and staff are working around the clock to develop online learning opportunities for our students. We will be launching online classes and tutoring opportunities as soon as possible. We hope to have some classes connected to virtual learning as soon as next week.
Please stay safe and let us know if there is anything we can do to assist you during this difficult time. We are all in this together and we will all get through it together!
Sincerely,
Amanda Blount
Executive Director