THE OLD STATE HOUSE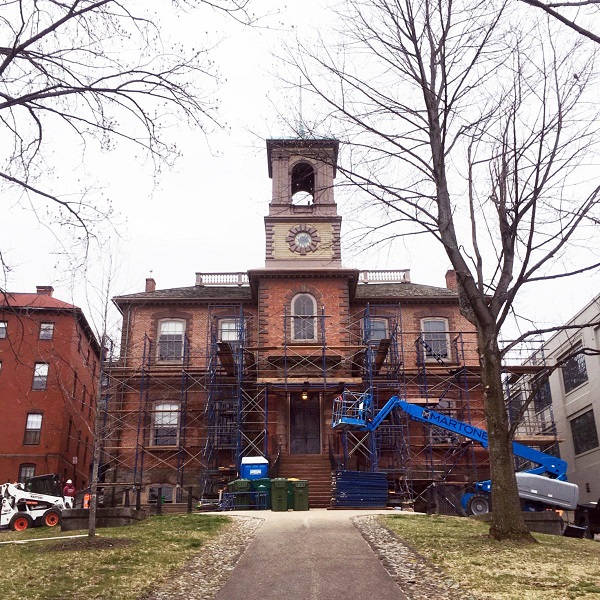 Is that scaffolding going up? Do you see a lift?
The exterior restoration of the Old State House is now underway. The project will include installing a new wood shingle roof, restoring the windows, patching and spot-replacing historic brownstone, repointing brick masonry, and repairing/painting all wood trim.
Thanks to our partners at the Department of Administration's Division of Capital Asset Management & Maintenance (DOA/DCAMM) for working with us on this important project. We will keep you updated on its progress.
As you are no doubt aware, the COVID-19 situation worldwide and in Rhode Island changes rapidly. Governor Raimondo and Director Alexander-Scott of the Department of Health continue to keep Rhode Islanders updated on the situation and remind us daily to exercise caution, including limiting contact with others. 
Following guidance from the Governor, public access to the Old State House offices of the Rhode Island Historical Preservation and Heritage Commission (RIHPHC) has been restricted. Our staff are working remotely to continue the normal operations of the office. The agency continues to accept tax credit applications, environmental review requests, and National Register inquiries. Site visits and in-person meetings are suspended; however, RIHPHC staff are available by email and telephone. A staff directory is posted on our website.
Also heeding the recommendations of the Governor, we have decided to cancel Back to the Future , the 35th Annual Rhode Island Statewide Historic Preservation Conference, which had been scheduled for Saturday, April 25, 2020. Back to the Future will be held on Saturday, April 24, 2021.
If you have any preservation questions or concerns, please visit our website . There you will find updates on our office's operations status, meeting schedules and other preservation news, and information about our programs.
Thank you for your patience and understanding during this challenging time. Please heed the warnings of your local officials and stay healthy. Thank you.
Sincerely,
Paul Loether
Executive Director
State Historic Preservation Officer