UNCLE DON'S 4TH of JULY STRAWBERRY-RHUBARB SHORTCAKE
BY DON DOUCETTE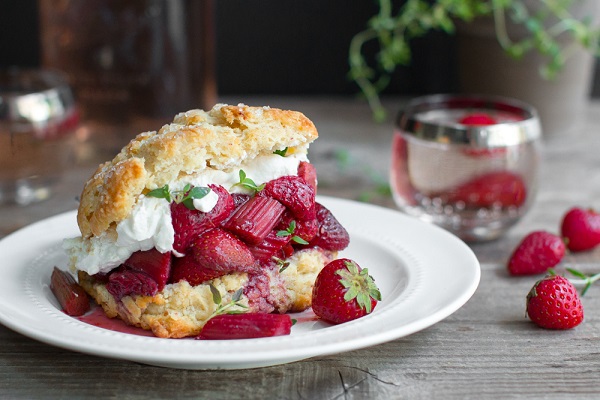 4 or 5 pounds FOUR TOWN FARM  Red Rhubarb
1 pound strawberries
Low Cal brown sugar
Baking powder biscuits
Squirt cream, or if a purist, whip and sweeten your own cream.
Clean and dice strawberries and rhubarb into a clean stainless stew pot with a small amount of water to cover pot bottom.
Pot watch and bring contents to quick boil with cocked lid. When accomplished, remove pot from heat and allow boiling to subside.
Leave pot and contents to stew in residual heat with top on. Walk away and come back later.
Stir and blend contents with Low Cal brown sugar sweetener to desired taste.
Pour into favorite kitchen bowl and refrigerate.
When putting your shortcake right, slice baking powder biscuit into very thin slices. This allows the thin-sectioned baking powder biscuit to sop the good juices.
In a desert bowl, top thin biscuit slices with an ample amount of chilled fresh sauce and choice of whipped cream topping.
Sit in by a stream of choice with your bowl of good shortcake and with a reliable spoon, celebrate your watershed Fourth of July with a smile .
Lip smacking is permissible.
HAPPY FOURTH OF JULY EVERYONE!!
UNCLE DON (Doucette)
"TEN MILE RIVER RAMBLES"
FRIENDS of the TEN MILE and BUCKLIN BROOK
CITIZENS of the NARRAGANSETT BASIN