Local Young Women Earn Highest Award Possible in Girl Scouting, the Gold Award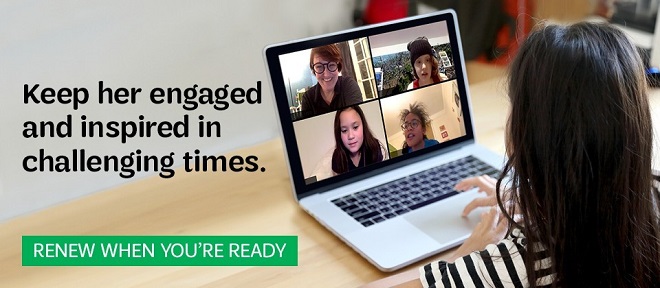 Warwick, R.I.—Girl Scouts of Southeastern New England is excited to announce the 2020 Girl Scout Gold Award honorees which includes eleven young women who created, developed, and executed self-sustaining "Take Action" projects successfully. Our council is thrilled to highlight the accomplishments of these girls and to join with them in celebrating over 100 years of Girl Scout Gold Award excellence, innovation, and visionary leadership in 2020. Through this tradition, we hope to continue empowering future generations of girls to follow their dreams, discover their passions, and make a global impact.
About the Girl Scout Gold Award
Since 1916, Girl Scouts have been making meaningful, sustainable change in their communities and around the world. The Girl Scout Gold Award, the greatest achievement in Girl Scouting, acknowledges the power behind each Gold Award Girl Scout's dedication to not only empowering and bettering herself, but also to making the world a better place for others. These young women are courageous leaders and visionary change makers. They are our future, and it looks bright!
"GSSNE is incredibly proud of the Gold Award Girl Scout class of 2020 and all of the work that went into each of their projects. These girls are the epitome of what it means to be a Girl Scout, displaying their courage, confidence, and character all in the hopes of making the world a better place," said Anna Lyons, Senior Manager of Girl Experience, Girl Scouts of Southeastern New England.
The following Gold Award Girl Scouts will join the millions of Girl Scout alum around the world who have successfully created, developed, and executed "Take Action" projects that have positively impacted their communities and the world, earning Girl Scouts' highest achievement:
BRISTOL, Julia Lewis-Borgia: End the Silence, Stop Youth Violence
CUMBERLAND, Lauren Nigri: Blackstone River Bikeway Bathroom
CUMBERLAND, Morgan Watson: The Little Franklin Farm Library
NORTH KINGSTOWN, Cassandra DeBlois: The Great Costume Closet
SOUTH KINGSTOWN, Sarah Ilgenfritz: Growing Your Faith
SMITHFIELD, Aemilia Blais: Inspire Kindness
WARREN, Ellie Chabot: Warren Bike Path Improvement
WARREN, Sarah Oliveira: Baltimore Street Playground
WESTERLY, Jordynn Celico: Tutoring and Homework Help: Community Outreach
WOONSOCKET, Emily Barbrie: Sensory Hallway at BVP Elementary
WOONSOCKET, Holly Viphakone: Novan Enterprise- Leadership Pathway
According to the Girl Scout Research Institute's (GSRI's) report, The Power of the Girl Scout Gold Award: Excellence in Leadership and Life, Gold Award Girl Scouts receive greater lifetime benefits than their peers
with regard to positive sense of self, life satisfaction, leadership, life success, community service, and civic engagement thanks to their experience in Girl Scouting, including earning their Gold Award.
When compared to non–Girl Scout alums, Gold Award Girl Scouts soar when it comes to seeing themselves as leaders, providing service to others through volunteerism, and having positive attitudes about themselves and the lives they lead. More generally, over 90 percent of Girl Scouts not only attributed their success in life to Girl Scouts, but they also said they could not have had access to the same experiences anywhere else. 
Over the course of the last century, millions of Girl Scout alums have positively impacted their communities and the world with their creative, impactful, and sustainable Take Action projects.
It's not only Girl Scouts who understand the value of the Gold Award. Some universities and colleges offer scholarships unique to award recipients, and girls who enlist in the U.S. armed forces may receive advanced rank in recognition of their achievements.
Earning the Gold Award is just one of the amazing things girls can do as part of Girl Scouts. To join Girl Scouts or learn more about volunteering, please visit 
We're Girl Scouts of the USA
We're 2.5 million strong—1.7 million girls and 750,000 adults who believe in the power of every G.I.R.L. (Go-getter, Innovator, Risk-taker, Leader)™ to change the world. Our extraordinary journey began more than 100 years ago with the original G.I.R.L., Juliette Gordon "Daisy" Low. On March 12, 1912, in Savannah, Georgia, she organized the very first Girl Scout troop, and every year since, we've honored her vision and legacy, building girls of courage, confidence, and character who make the world a better place. We're the preeminent leadership development organization for girls. And with programs from coast to coast and across the globe, Girl Scouts offers every girl a chance to practice a lifetime of leadership, adventure, and success. To volunteer, reconnect, donate, or join, visit 
About Girl Scouts of Southeastern New England
Girl Scouts is the world's preeminent girl leadership organization where, in an accepting and nurturing environment, girls build character and skills for success in the real world. Girl Scouts of Southeastern New England, in partnership with 2,700 adult volunteers, serves over 6,000 girls from Rhode Island, thirteen communities in southeastern Massachusetts, and Pawcatuck, CT. For additional information, please visit 
www.gssne.orgfollow @gssne on Instagram, follow
@GirlScoutsofSNE
on Twitter, and like us on Facebook at