Hello friend,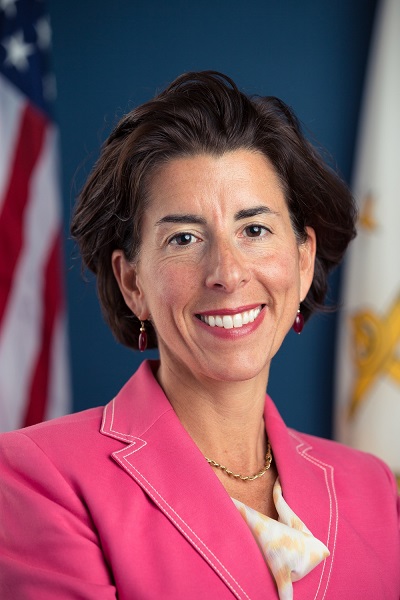 GINA RAIMONDO
There's a lot going on these days, and it's easy to miss things. That's why I wanted to put together a quick recap for you of the new announcements from the past week.
If you know someone who wants to stay up-to-date on the latest measures Rhode Island is taking to stop the spread of COVID-19, send them this link: 
lp.constantcontactpages.com/su/eYMG9tf .
The better we all stay informed, the better we'll be able to keep ourselves, our families, and our friends safe from COVID-19.
BACK TO SCHOOL
Monday was a big day in Rhode Island – students and teachers headed back to school. I know the first day looked different this year than it has in years past, but I want you to know that we're ready to make this year successful. As I've said from the very beginning: we owe it to our kids to get them safely back into the classroom. And this week, the months of hard work paid off.
As a reminder,  if you work at a school and you need a test, or if your child needs a test, you can schedule a same-day test by calling our dedicated PreK-12 COVID Test Scheduling Service at (844) 857-1814. The service is available seven days a week, from 7:30 a.m. to 9:30 p.m. This scheduling line is reserved for students, teachers, and staff who have symptoms, or who have been in close contact of someone who is positive.
EXPANDED UNEMPLOYMENT BENEFITS
I'm excited to announce that we have successfully lobbied the federal government for an additional three weeks of support. The Department of Labor and Training will be distributing an additional $300 per week to those who certified for unemployment benefits for the weeks ending August 22, August 29, and September 5. If you certified for unemployment during those three weeks, the money will be automatically deposited into your account. The first $600 will be deposited by early next week, and the final $300 will be deposited within a week after that. If you're currently without a job, I hope that this additional aid will help you make ends meet while we work to create opportunities for you.
2020 CENSUS
Census funding supports education, housing, healthcare, infrastructure and so much more.
We need you to stand and be counted in order to ensure that Rhode Island receives the funds it needs for you, your family, and your neighbors. Together, we all need to make one last push to complete our census. I know that there's a lot going on these days, but taking 10 minutes to fill out the census will make a difference in Rhode Island for the next 10 years.  Please, go  to  2020Census.gov and fill our your census — and make sure your friends and family do,
I hope you find this recap helpful. It's so important that everyone stay engaged and informed so that we can all stay safe and healthy. I'll be back on TV with more updates Wednesday at 1 p.m.
We're all in this together.
-Gina Raimondo
Governor
P.S.: Information is our greatest weapon in the fight against COVID-19. If you or someone you know wants to sign up to receive these emails, you can use   this link .