Hello friend,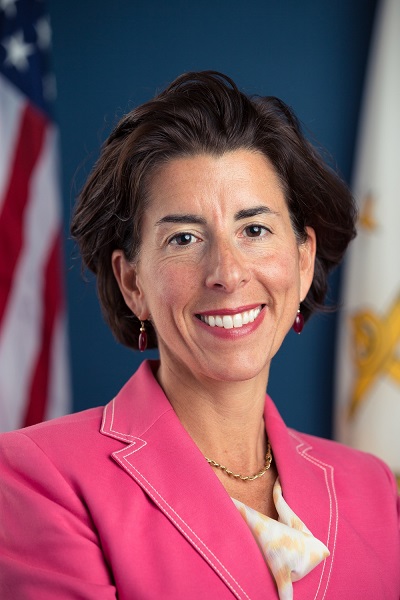 GOVERNOR GINA RAIMONDO
There's a lot going on these days, and it's easy to miss things. That's why I wanted to put together a quick recap of the announcements from the past week.
If you know someone who wants to stay up-to-date on the latest measures Rhode Island is taking to stop the spread of COVID-19, send them this link:  lp.constantcontactpages.com/su/eYMG9tf . The better we all stay informed, the better we'll be able to keep ourselves, our families, and our friends safe from COVID-19.
AIR CIRCULATION
Over the last few months, state and school leaders have worked 24/7 to safely reopen our schools. That work would not have been possible without the input of public health experts, from pediatricians to epidemiologists and more. Throughout this crisis, we've relied on the data, and we've put our trust in scientists to guide our decisions.
These scientists looked at data of what's called "air changes per hour" – or how often air is circulated in and out of a certain room – to determine how best to address COVID-19 in indoor settings. Based on their recommendations, we have put together a helpful page with the best ways to keep indoor settings safely ventilated.
NEW DATA DASHBOARD
Going forward, we're making some additions to the data that we display on our daily dashboard on the Rhode Island Department of Health  website .  In addition to the numbers we've been tracking the whole time, like the total number of tests and daily positive cases, we're also going to start showing you the most recent trends.
The dashboard will now have three graphs graphs showing three weekly metrics — average percent positive rate, new hospitalizations, and new cases per 100,000 residents — over the past 8 weeks. Each graph has a red line representing the threshold above which we need to consider imposing new restrictions and trend arrows comparing each of those three data points to the previous week. These new additions will make it easier to tell at a glance where we doing well and where we need to improve.
FALL
Even as the weather changes, we can still take it outside. Nothing is more quintessentially New England than our fall traditions like apple picking, pumpkin carving, and checking out our beautiful foliage. This year it's going to be more important than ever that we find ways to have fun outdoors so that we can stop the spread of COVID-19.
And don't forget: you have more access to outdoor space this fall than ever before through the  Take It Outside campaign. You can reserve space at one of Rhode Island's beautiful state parks that are taking part in the initiative, or visit your town or city's website to learn about how they're opening up their outdoor spaces for reservation.
I hope you find this recap helpful. It is so important that everyone stay engaged and informed so that we can all stay safe and healthy. I'll be back on TV with more updates Wednesday at 1 p.m.
We are all in this together.

-Gina Raimondo
Governor
P.S.: Information is our greatest weapon in the fight against COVID-19. If you or someone you know wants to sign up to receive these emails, you can use this link