THE WILBURY THEATRE GROUP and WATERFIRE PROVIDENCE present a special outdoor, return engagement
"Absolutely riveting," – The Providence Journal
Constellations
by Nick Payne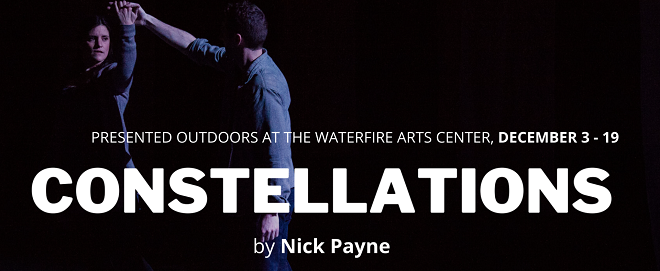 December 3 – 19, 2020*
WaterFire Arts Center
*Simulcast Spanish Language Performances on Friday 12/11 & 12/18
About Constellations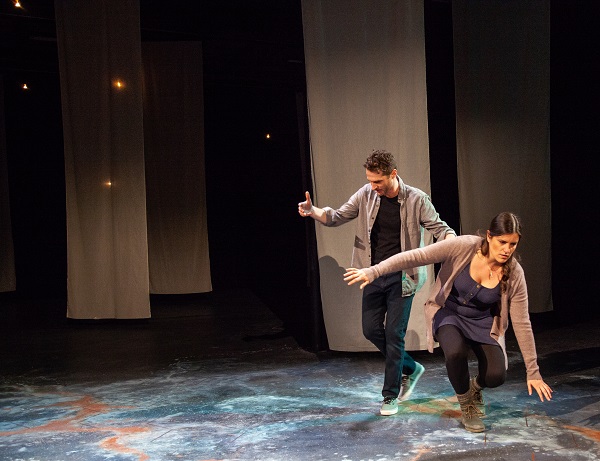 Constellations was initially inspired by Brian Greene's documentary The Elegant Universe, which explores string theory and posits that our universe maybe comprised of up-to-and-including 11 space-time dimensions. In an article for The Telegraph, playwright Nick Payne explains, "Constellations is my attempt to dramatise this dilemma…in which the science at the heart of quantum mechanics is explored through the many and varied possible lives of a single couple: cosmologist Marianne and artisan beekeeper Roland.
"We follow the pair as they fail at first-time small talk, only to then see them succeed. Likewise, we watch as Marianne and Roland break-up and stay together, move in with one another and go their separate ways, embark upon an extramarital odyssey and commit to a life of monogamy. It is a play in which the finitude of their romantic endeavours is both celebrated and mourned…In the Quantum Multiverse, chance is our saving grace and our Achilles' heel; we are both wildly autonomous and utterly powerless."
About The Wilbury Theatre Group

Founded in 2010, The Wilbury Theatre Group is an award-winning, not-for-profit professional theatre company committed to engaging our community in thought-provoking conversation through new works, reimagined classics and adventurous playmaking. Winner of the 2018 National Theatre Company Award from the American Theater Wing, presenters of The Tony Awards, in recognition of our community-centric approach and our commitment to the revitalization of the American regional theatre through new work development, we are idealistic, ambitious, and stubborn in our resolve to create theatre that entertains, enlightens, and inspires. 
About WaterFire Providence
WaterFire Providence® is an independent, 501(c)3 non-profit arts organization whose mission is to inspire Providence and its visitors by revitalizing the urban experience, fostering community engagement and creatively transforming the city by presenting WaterFire for all to enjoy. Each year nearly 1 million people come to downtown Providence to experience WaterFire spending over $114,000,000 to the local economy, generating over $9,000,000 of direct tax revenue for the State of Rhode Island and supporting 1,294 jobs for community residents and strengthening Providence's Creative Capital and Rhode Island's State for the Arts brands.  
About the WaterFire Arts Center
WaterFire Providence purchased the Art Center in 2012 and began rehabilitation for the vacant, historic, industrial building in the underserved Olneyville/Valley neighborhood of Providence.
The 37,000 sq. ft. multi-use arts center has become WaterFire's first permanent home in the community and serves as its headquarters, production complex, and a multi-purpose arts venue as well as a social enterprise platform strengthening the organization's long-term financial sustainability.
Exhibitions presented at WaterFire Arts Center will further the organization's agenda of providing arts and culture opportunities and experiences for all, regardless of social, cultural, or economic background.
For more information about the WaterFire Arts Center including rental inquiries, please visit:
Photos by Erin X. Smithers.