Regis Students Make the Dean's List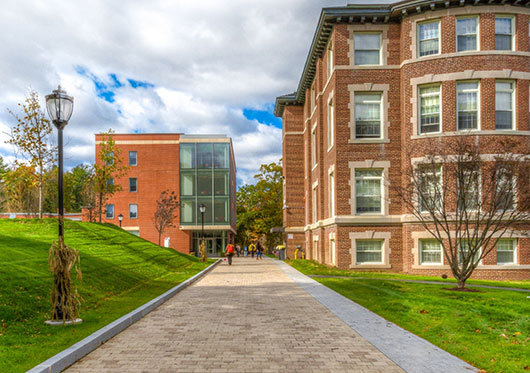 WESTON, MA:  November 16, 2020 – Regis College is pleased to announce that 603 students made the Dean's List for academic achievement for the 2020 spring semester.
The following students in your area were among those who made the dean's list.
* Yexi Menard, of Attleboro, Mass. (02703), class of 2021.
* Jessica Rezendes, of Attleboro, Mass. (02703), class of 2021.
* Avery McMorran, of North Attleboro, Mass. (02760), class of 2024.
* Emily Blanchard, of North Attleboro, Mass. (02760), class of 2022. 
To be eligible for the Dean's List as a senior, junior or sophomore at Regis, a student must have a semester grade point average (GPA) of at least 3.50. For first-year students, a semester GPA of at least 3.25 must be attained. 
"I am very pleased to see so many of our students excelling across the university," said Regis College Vice President of Academic Affairs, Mary Erina Driscoll, PhD.
"The Dean's List and the diversity of academic disciplines speak to a dedicated student body and to a faculty that promotes intellectual curiosity and achievement."
ABOUT REGIS
Regis College is a coed, Catholic university 12 miles west of Boston in Weston, Mass. 
With over 3,000 undergraduate, graduate, and doctoral students enrolled on campus and in fully online graduate programs, Regis provides an academically rigorous education within the schools of nursing, arts and sciences, business and communication, and health sciences.
The Young School of Nursing at Regis has consistently been recognized by the National League of Nursing as a Center of Excellence in Nursing Education.
In line with Regis' mission of providing innovative, industry-focused learning opportunities, the university offers academic partnerships with hospitals and local employers, a clinical dental center in Waltham, Mass., and bachelor's completion and accelerated nursing programs at its campus in Lawrence, Mass.
The university's 20 NCAA Division III athletic teams compete within the Great Northeast Athletic Conference (GNAC). Inspired by the social justice values of its founders, the Sisters of St. Joseph of Boston, Regis engages with service initiatives within the local community and around the world.
Visit
to learn more.