Audubon Nature Center and Aquarium to Close*
November 30 to December 13, 2020 
in Response to COVID-19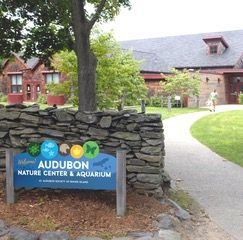 Nature Shop and Outdoor Trails Will Remain Open to the Public
Smithfield, RI (November 20, 2020) – Following Governor Raimondo's new restrictions to stem the outbreak of COVID-19, the Audubon Society of Rhode Island is temporarily closing the Nature Center and Aquarium in Bristol, RI from November 30 to December 13, 2020.  The Audubon Nature Shop and trails on the property will remain open.
All programs, classes, and events are also cancelled during this time period. Audubon will make a decision on reopening based on guidelines from the Rhode Island Department of Health.
*The Audubon Nature Shop will open to the public each Friday through Sunday from 10:00 am to 3:00 pm. Gifts may also be purchased online at 
For those who have signed up for a program that has been cancelled, Audubon will refund registration fees. But individuals may also make the choice to convert their fee into a donation. This would help Audubon to weather the economic fallout of the virus.
In this time of uncertainty, walks in nature can provide a much needed source of exercise and stress relief. Audubon encourages the public to use the outdoor trails at the Nature Center and Aquarium, as well as trails on all of Audubon's other public wildlife refuges across the state.
Please practice social distancing and wear masks when necessary. For a listing of wildlife refuges and trail maps, visit 
We look forward to welcoming you back when the Nature Center and Aquarium reopens.
Updates will be posted on