Notes from Commissioner Infante-Green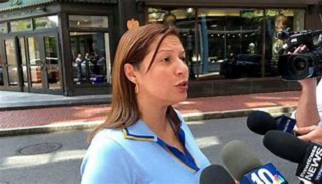 Social and Emotional Supports for Schools
I know that many of us were watching the events of this week nationally with a mix of emotions and feelings. It's important that we as educators are supported and empowered and that we are helping our students process this moment in our history. 
With that in mind, I wanted to take a moment to highlight an exciting partnership to support social and emotional health for all educators in RI. RIDE, through a unique partnership with Yale University's Center for Emotional Intelligence, the Rhode Island Foundation, the National Education Association of RI, and the RI Federation of Teacher and Healthcare Professionals will offer a 10 hour course entitled: Social and Emotional Learning in Times of Uncertainty and Stress: Research-Based Strategies. Starting today, the RI education community can access the course using this link.
This course launched September 30, 2020 in the State of Connecticut. To date, 22,000 learners across the state have enrolled, and we're proud to offer it here for our educators, school staff and after-school providers.
This free opportunity, developed by the Yale University Center for Emotional Intelligence, focuses on research-based strategies from the field of social and emotional learning for managing emotions and helping students to manage their emotions, especially during uncertain and stressful times. It is hosted on Coursera and will be available on a rolling basis from January through June 2021. 
In addition to this new course, I wanted to share a few resources for talking to kids about trauma, resources for teachers and civil discourse in the classroom so that we may all support each other as we have these sometimes difficult conversations. 
Angélica  
HIGHLIGHT
Elementary Educator Recognition: Cox Conservation Contest 
The RIDE Educator Recognition Program, in partnership with Cox Business, is sponsoring a state wide Cox Conservation Contest for grades K-8 in RI public schools. The goal of the Cox Conservation Contest is to empower students with the tools and voice to support and advocate for environmental platforms, while bringing awareness to conservation initiatives that reduce waste and support the environment. 
The conservation project will be grounded in grade level Next Generation Science Standards (NGSS) and facilitated by the classroom teacher, grade level team, or academic coach. The project must be grounded in research, data driven, and sustainable. 
Cox Business has generously donated $5000 to support conservation projects at one or more selected Rhode Island schools. 
Application submissions are due by 4pm, February 22, 2021. If you have questions about the Cox Conservation Contest application, please contact Mary Keenan at mary.keenan@ride.ri.gov or 401-222-8497.