Exciting weekend preview of happenings inside Rhode Island???s historic Blackstone River Valley
Suggested events for the weekend of September 10-11, 2016
FESTIVALS, RIVER TOURS, AND LABOR HISTORY
Over the September 10-11 weekend, as most residents and visitors are now back into the normal routines of work and school, take time to celebrate ethnic culture, discover the arts, along with learning about a significant national labor event with area connections, in Rhode Island???s Blackstone River Valley National Historical Park.
Recognized as the actual birthplace of America???s Industrial Revolution, Blackstone River Valley has real stories of real people and real places interpreting the importance of manufacturing, work, creative talents, community, heritage, immigration, nature and leisure on how they evolved and forever shaped our nation???s quality of life and standard of living.??
Throughout the weekend come and experience the many unique facets of how these elements interplay in modern 21st century life in the region and show how they impact social and economic development.??
Woonsocket celebrates proud culture connections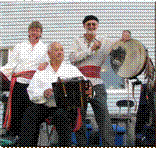 Saturday, September 10, 9 am-3 pm, join the Northern RI Council on the Arts for their annual French Heritage Festival inside scenic River Island Park, Market Square, Woonsocket, RI.
Each year this festival showcases the proud city French Canada connections through arts and crafts, food, family fun events and more! This year???s music concerts are performed by Les Joyeux Copains and La Croisse D???Antan.??
Later, the fun continues, with the Soiree, happening 5-8:30 pm, at Our Lady Queen of Martyrs Hall, at Park Square. Join your host Roger Lalibertie, and musical guests Les Vents de Cantons. Enjoy a local food staple, dynamite, as well!??
For details on the festival and events visit the web at www.nrica.org
River tours in Woonsocket too??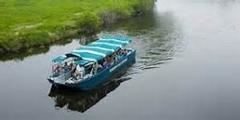 Another fun way to discover the Blackstone River Valley is seeing it on the Blackstone American Heritage River itself! Every Sunday, September 6 through October 30, take a tour on the 40 passenger riverboat Blackstone Valley Explorer, operating from Cold Spring Park, 101 Katherine road, Woonsocket, RI. Tours are Sundays on the hour at 1 pm, 2 pm 3 pm and 4 pm.??
Led by Mystic Aquarium educators, you will hear stories of the workers, residents and early settlers of the Blackstone River Valley and what it took to make our region what it is today. As the 45-minute tours wind along the waters and thick foliaged riverbanks you may get a chance to see the swan, grey blue heron, hawks, deer, turtles, or even the rare bald eagle, that live along our renewed waterways.
Also, there are special Environmental Education Saturday tours on the Explorer, set for September 17 and October 15, both dates have tours at 1 pm and 2 pm at Cold Spring Park. On these tours view the river???s environment alongside Mystic Aquarium Science Educators. Learn about the science of the river???s plants, animals, wetlands and recovery from pollution. These 45-minute tours also feature a unique opportunity to drive an underwater remotely-operated vehicle allowing you to see what???s below the river???s depths. You never know what you???ll find!
For tickets and more details go to www.rivertourblackstone.com or call 401-724-2200.
Pawtucket Arts Festival continues??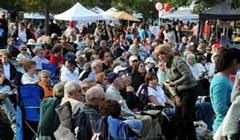 In Pawtucket, RI, the Pawtucket Arts Festival continues with another great weekend for everyone to enjoy!??
This weekend events are focused around the city???s magnificent Slater Memorial Park, located off Armistice Boulevard.??
All weekend, September 10-11, the park presents the city???s Arts & Crafts Festival, featuring local artisans and crafters. Plus, enjoy the many sites the park presents, with events at the Looff Carousel, RI Watercolor Society arts works at the Boat House, and the interactive Daggett Farm, complete with real farm animals! Plus see the city???s oldest home in the park, Daggett House, operated by the local DAR chapter.
And, Saturday, September 10, 3-8 pm, in the park, is the event that everyone looks forward to at the Arts Festival, with the Rhode Island Philharmonic Orchestra ???Pops in the Park??? Concert. Join as conductor Francisco Noya leads the orchestra performs a variety of musical selections, capped off by a dazzling fireworks display.??
For more on these events go online to www.pawtucketartsfestival.org.
Remembering a tragic moment in US Labor history in RI
While American are pausing to remember the horrific events on the Attack on America that occurred 15 years ago, on September 11, 2001, there was another major incident that occurred here in Blackstone River Valley on September 11, 1934. It was a battle between striking textile workers and National Guardsmen that resulted in loss of life.
The Moshassuck Cemetery, 978 Lonsdale Avenue, Central Falls, RI, was the scene of a riot involving strikers who were involved in the 1934 national strike organized by the United Textile Workers union.
According to news reports and historical accounts at the time, the workers began their strike on Labor Day in 1934 here in Rhode Island and expanded to include southern textile mills in the US. The strike, in the midst of the Great Depression of the 1930???s, was an effort to raise wages and improve working conditions. The mill owners responded by hiring non-union replacement workers By September 10, at the Sayles Finishing Company in Central Falls, 600 union supporters had gathered in front of the textile mill that was now making due with non-union workers.
On September 11, then RI Governor Theodore Francis Green mobilized the National Guard to quell disturbances by the striking workers. 260 National Guard troops, along with RI State Police and local police, armed with rifles, were met with over four thousand protestors that charged at them and rioted towards the mill and the cemetery across the street. Striking workers hurled rocks and pieces of gravestones at troops. The soldiers and police fired back at the protestors in the cemetery. Eight strikers were shot, over 100 injured by being hit by nightsticks and tear gas and Saylesville itself was placed under martial law.
Meanwhile, in Woonsocket, a 19 year old striking mil worker was killed and four other seriously wounded, when National Guard troops were also send to the Rayon Plant to control riots at that plant.
Today, walking through the graveyard, bullet holes remain on several gravestones from one of the most violent protests for worker rights from 82 years ago. In 2014 labor unions placed a special marker in the cemetery honoring the workers injured or killed during the riots.
Video of what many called the ???Saylesville Civil War??? can be seen online at http://www.britishpathe.com/video/civil-war-at-saylesville