House OKs Keable bill to improve freshwater management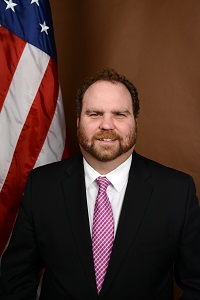 CALE P. KEABLE
STATE HOUSE – The House of Representatives has approved legislation sponsored by Rep. Cale P. Keable to improve management of freshwater resources by consolidating all related programs in a single state division.
The legislation (2017-H 5174A) would put the Fish and Wildlife Division of the Department of Environmental Management (DEM) in charge of stewardship of freshwater lakes, ponds, rivers and streams in Rhode Island. Currently, responsibilities for their regulation and protection are scattered across several state divisions.
Representative Keable said consolidating the responsibilities in a single division would serve to better coordinate the state's efforts to protect these critical resources. The bill is supported by Save the Lakes, a statewide nonprofit organization dedicated to the preservation and protection of Rhode Island's lakes, ponds and fresh water resources.  
"Lakes, ponds and rivers are the arteries through which the lifeblood of our land — fresh, clean water — travels and replenishes every part of Rhode Island. They support our drinking supplies, our wildlife, our vegetation and recreation," said Representative Keable (D-Dist. 47, Burrillville, Glocester).
"Having a single entity coordinating all the state's efforts to preserve and manage these important resources would ensure the that our efforts are efficient and effective, and would make it easier for Rhode Islanders to know where to turn when they want to ask a question, report a problem or get involved in preserving freshwater bodies."
The legislation is cosponsored by Rep. Jeremiah T. O'Grady (D-Dist. 46, Lincoln, Pawtucket), Rep. Thomas Winfield (D-Dist. 53, Smithfield, Glocester) and Rep. Kathleen A. Fogarty (D-Dist. 35, South Kingstown).  
The bill now heads to the Senate, which last month passed companion legislation (2017-S 0203A) sponsored by Sen. Paul W. Fogarty (D-Dist. 23, Glocester, Burrillville, North Smithfield).