Museum of Work & Culture to Celebrate Oktoberfest With Bavarian Flair
September 9 Event to Benefit Mill Project, New MoWC Digital Exhibit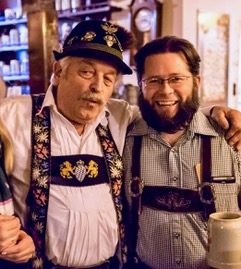 (WOONSOCKET, R.I.) – The public is invited to join the Museum of Work & Culture on Saturday, September 9, 6pm, for a celebration of Oktoberfest with an evening of German food, music, dancing, and history at the German American Cultural Society of Rhode Island.
The festivities will include traditional German folk dancing, live accordion music, and a keynote by a senior member of the GACSRI centered on the history of the German community in Rhode Island.
The menu will feature garden salad, schweinebraten (roast pork with gravy), hausgemacht spaetzle (homemade pasta), GACSRI's famous sauerkraut, schwartzwälder kirschtorte (black forest chocolate cake), and coffee. Each guest will also receive a complimentary authentic German beer from the Society's renowned tap wall or a glass of wine.
All proceeds will benefit the Mill Project, a new digital exhibit currently under development at the Museum of Work & Culture.
Tickets for the event are $50 and are available for purchase at the MoWC or online at http://www.shopmowc.com/. For more information, please contact the MoWC at (401) 769-9675.
A Moveable Feast is a series of bi-monthly programs celebrating holidays throughout the year with food, entertainment, and a history lesson at restaurants in Northern Rhode Island. It is presented as part of the Rhode Island Historical Society's Relishing Rhode Island, a yearlong look at the state's rich and diverse culinary history.
About the Museum of Work & Culture
The interactive and educational Museum of Work & Culture shares the stories of the men, women, and children who came to find a better life in Rhode Island's mill towns in the late 19th- and 20th centuries. It recently received a Rhode Island Monthly Best of Rhode Island Award for its SensAbilities Saturdays all-ability program.
About the Rhode Island Historical Society
Founded in 1822, the RIHS, a Smithsonian Affiliate, is the fourth-oldest historical society in the United States and is Rhode Island's largest and oldest historical organization. In Providence, the RIHS owns and operates the John Brown House Museum, a designated National Historic Landmark, built in 1788; the Aldrich House, built in 1822 and used for administration and public programs; and the Mary Elizabeth Robinson Research Center, where archival, book and image collections are housed. In Woonsocket, the RIHS manages the Museum of Work and Culture, a community museum examining the industrial history of northern Rhode Island and of the workers and settlers, especially French-Canadians, who made it one of the state's most distinctive areas.