A PROFESSIONAL HEALTH HEALING OPPORTUNITY??
Soul Injury ??? Liberating Unmourned Loss & Unforgiven Guilt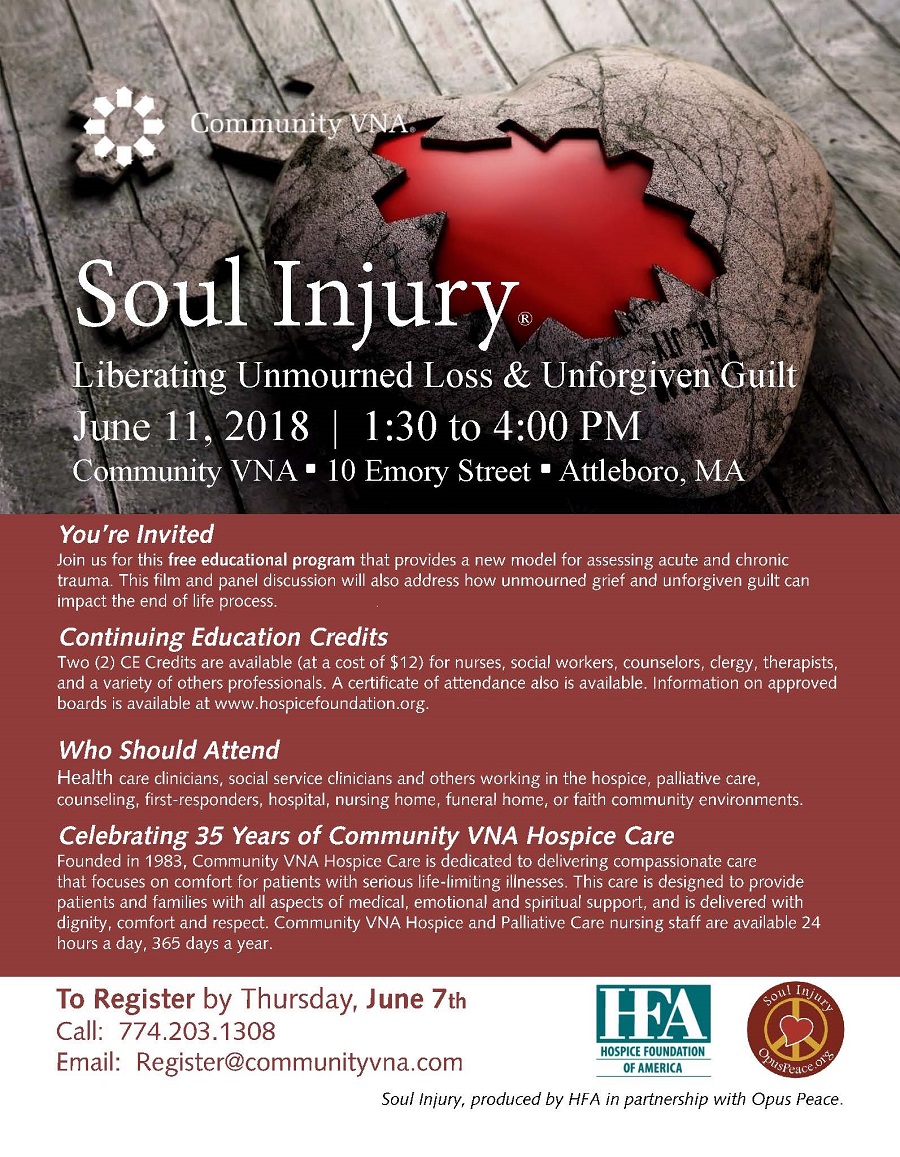 Attleboro, MA – On Monday, June 11, 2018, Community VNA will host an educational program to assess and respond to acute and chronic trauma in individuals. Soul Injury ??? Liberating Unmourned Loss & Unforgiven Guilt film and discussion will be shown at Community VNA, 10 Emory St., Attleboro, MA from 1:30 PM to 4:00 PM.
Soul Injury is defined as a spectrum of penetrating wounds caused by unmourned loss and unforgiven guilt and/or shame that causes one to become separated from their own sense of self.
The program features national speaker and author, Deborah Grassman, CEO of Opus Peace. During her 30-year career doing hospice at the Veterans Administration, she cared for more than 10,000 dying veterans: ???I often saw a liberating shift as the dying veteran reviewed their life, grieved their losses, and forgave themselves and others. They would then sometimes ask, ???Why did I have to be dying to learn how to do this???????
Grassman explains that this was the impetus for starting Opus Peace, a 501(c)3 non-profit organizations. ???Dying veterans have taught us how to cultivate honesty, courage, and humility to disarm the fearful heart through love, forgiveness, and self-compassion so that wholeness can be restored.???
The objectives of the program are to:

Identify overlooked, unassessed Soul Injuries that impact during life and at the end of life
Compare and contrast traumatic and insidious Soul Injury, PTSD, and moral injury
Discover how stoicism, fear of emotional pain, unmourned loss and unforgiven guilt and/or shame contribute and perpetuate Soul Injuries
Learn how to support others to disarm the fearful heart through love, forgiveness, and self-compassion so that personal intimacy can be achieved

???We are honored to bring this program to the community as we celebrate the 35th Anniversary of our Hospice Care. We believe many people will benefit by participating,??? said Jeffrey LaValley, Community Relations and Fund Development Manager at Community VNA.??
Presentation is free and open to the public. Registration is required by June 7th. ??For more information, or to register, please call 508.222.0118 ext. 1308, or email register@communityvna.com.
This program is valid for 2 CE credits (at a cost of $12) for nurses, social workers, and a wide variety of professionals. A certificate of??attendance also is available. Information on applying for CE credits through HFA will be provided to participants.
About HFA
Soul Injury is a production by Hospice Foundation of America, a not-for-profit organization, which acts as an advocate for the hospice concept of care through ongoing programs of professional education, public information and research on issues relating to illness, loss, grief and bereavement.??
Celebrating 35 Year of Community VNA Hospice Care
Founded in 1983, Community VNA Hospice Care is dedicated to delivering compassionate caring that focuses on comfort for patients with serious life-limiting illnesses. This care is designed to provide all aspects of medical, emotional and spiritual care and support for patients and assistance for their loved ones with dignity, comfort and respect. Community VNA's Hospice and Palliative Care nursing staff are available 24 hours a day, 365 days a year.??
About Community VNA
Community VNA has been dedicated to enhancing health, wellness and quality of life for more than 100 years, providing a range of services, including: Home Health Care, Hospice Care, Palliative Care, Private Care, Adult Day Health Care, Alzheimer???s Assistance Program, as well as Lifeline Services and Annual Elder Dental Clinics.??
Community VNA has been recognized as a 2017 HomeCare Elite Top 500 (ranked among the top 5% of home health care agencies nationwide). This recognition is based on publicly available performance measures in quality outcomes, best practice implementing patient experience, quality improvement and consistency, and financial performance.??
For more information, visit www.communityvna.com, and connect with Community VNA on Facebook.