UNDERLAND: An Immersive Haunted Experience–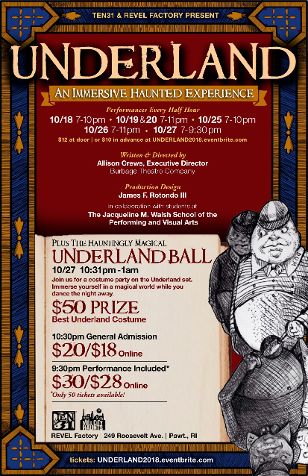 Pawtucket???s Spookiest Halloween Attraction returns for a third year! Held on Thursdays, Fridays and Saturdays October 18- 27 with proceeds to support FREE community and arts programs at REVEL FACTORY. 249 Roosevelt Ave, Pawtucket, RI.
Premier national purveyors of performance art, TEN31 Productions ??? known colloquially in Rhode Island as ???the Living Statues and Gargoyles at Waterfire ????? ????? and REVEL Factory Presents: UNDERLAND in collaboration with the Jacqueline M. Walsh School for the Performing and Visual Arts.
Come one, come all to New England's Most Unique Halloween Experience!!
Proceeds to benefit REVEL Factory free arts programming.??
With the 'fright meter' falling right in the middle of 'Absolutely Terrifying' and 'Kind of spooky', this immersive theatrical experience offers just the right amount of Halloween Magic! Featuring performances by TEN31 Productions. Tickets are on sale now! Children are welcome, but this event is not intended for the very young, ages 12 and up are recommended.
Explore the world of Underland in TEN31 and REVEL Factory???s NEWEST Immersive Haunted Experience. This years event is like nothing we've done before. This is not your average Haunt,, but rather an Immersive Haunted Theatrical Performance where audience members?? are let into Underland (a twisted version of Wonderland) and encouraged to explore the world, interact with the characters, and see if they can figure out what is really going on.??
Underland is written and directed by Allison Crews, Executive Director of Burbage Theatre Company with Production Design by James F. Rotondo III.??
Shows start every 30 minutes on the hour, don???t be late or the Queen of Hearts will surely have your head!
FUN FACTS! – REVEL Factory produced this experience in partnership with the students at the JMW School for the Performing and Visual Arts. Students helped to design and create this entire experience, working side by side with REVEL Professionals! Proceeds from this event go towards furthering arts and arts education programs! UNDERLAND is performed in conjunction with Pawtucket???s Halloween celebration, Mill City Haunts.
WHEN:
Thursday October 18th 7:00 – 10:00PM
Friday October 19th 7:00 – 11:00PM
Saturday October 20th 7:00 – 11:00PM
Thursday October 25th 7:00 – 10:00 PM
Friday October 26th 7:00 – 11:00 PM
Saturday October 27th 7:00 – 9:30 PM
HOW MUCH:
Admission – $10 per person in advance/ 12$ per person at door
Tickets at : UNDERLAND2018.eventbrite.com
*all presale tickets are non refundable*
UNDERLAND Ball: Join TEN31 for a costume party on the Underland set.
Immerse yourself in this spooky?? upside down world while you dance the night away. Saturday 10/27 10:31-1:00am. 21+
When is the last time you attended a party where you became part of the environment? Dance the night away at REVEL Factory and TEN31???s hauntingly magical Underland Ball, for which guests are encouraged to wear costumes (prizes awarded) and Immerse yourself amongst the props and set design of?? UNDERLAND!
When:
10:31-1:00 am
Doors open at 10:31 pm??
How Much: $18 per person advance, $20 at door. Cash bar. 21 +??
Attend both events with the Underland Experience/Ball combo (9:30 pm) $28 online $30 at door.??
Tickets at Underland2018.eventbrite.com
WHERE:
Both Events are located at:
REVEL Factory
249 Roosevelt Ave
Pawtucket, RI??
(Located in the back of the building along the river)??
FREE PARKING – Located in 2 lots adjacent to 249 Roosevelt Ave and Municipal lots across from City Hall.
For more information, or if you are interested in volunteering at this event, please contact us!
Email – revelfactoryri@gmail.com??
Phone- 401-725-1031