The sights, sounds, and tastes of India come to life in WAM???s Fall Community Day??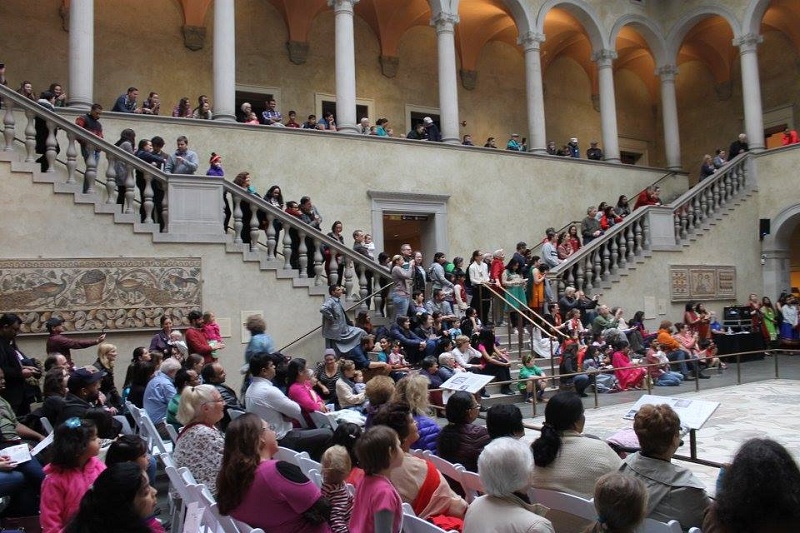 All are invited to this day-long celebration of ???Diwali: Festival of Lights???
??
September 28, 2018 (Worcester, MA) On Saturday, November 3, from 10 a.m. to 4 p.m., the Worcester Art Museum (WAM) hosts a festive community day that commemorates the triumph of light over darkness. ???Diwali: Festival of Lights??? is the theme of the Museum???s popular Fall Community Day. Diwali is India???s most celebrated national holiday, a colorful and joyous time when family, food, beautiful adornments, and displays of light all herald the embrace of knowledge over ignorance, of light over darkness.
This third annual community event is held in partnership with the India Society of Worcester.?? In a feast for the senses, the Museum will be filled with sights, smells, and sounds of India during this full day of programming and special performances. Activities and programs include:
Indian Dress Try-ons:?? Get a close-up view of the luminance and color of India???s traditional garments and learn how to drape a Sari. Presented by India Society of Worcester.

Mehndi:?? See how a mehndi artist works and receive henna of your own. The art of mehndi has been a long-standing tradition stemming from many ancient cultures but is mostly known today for its history and prevalence in India.
Hands-on Activities:?? Make paper marigolds, Diwali door hangings, and Madhubani art coasters to bring home
Music and Dance:?? The India Society of Worcester presents a full line-up of traditional, modern, and contemporary Indian performances in the Museum???s grand Renaissance Court.??
Food: Traditional Indian food will be available for purchase. (Please note the Museum Caf?? will not be open on this day due to the Community Day activities.)
Gallery Tours: 10:30 a.m. ??? Family Tour; 12 noon???Zip Tour:?? "The Genius of Louis Tiffany and John LaFarge" (in the Radiance Rediscovered exhibition); 2 p.m. ??? Tour of the Month: The Art of India and Iran
Museum parking is free, but limited. For directions and a map of additional parking around the Museum, visit:?? http://www.worcesterart.org/information/directions/??
Complete information about Worcester Art Museum exhibitions and programs can be found at worcesterart.org
About the Worcester Art Museum
Founded in 1896, the Worcester Art Museum???s encyclopedic 38,000-piece collection covers 51 centuries of art. Highlights include the Medieval Chapter House, Renaissance Court, and Worcester Hunt Mosaic, as well as the recently integrated John Woodman Higgins Armory Collection of arms and armor. The Museum is internationally known for its collection of European and American art. It was the first in America to acquire paintings by Monet and Gauguin and one of the first to exhibit photography as art. As one of the first U.S. museums to focus on collaborating with local schools, it has been at the forefront of engaging audiences and giving them a meaningful and personal experience for over a century.
The Worcester Art Museum, located at 55 Salisbury Street in Worcester, MA, is open Wednesday through Sunday from 10 a.m. to 4 p.m. and every third Thursday from 10 a.m. to 8 p.m. Admission is $16 for adults, $6 for children 4-17, $14 for seniors 65+, and $12 for college students with ID.?? Members and children under four are free. Parking is free. For more information, visit worcesterart.org