Music & Movement Class Offered by The Chorus of Westerly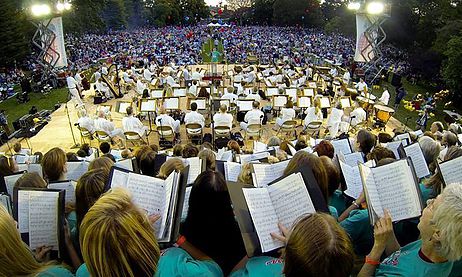 Music & Movement will resume at the George Kent Performance Hall for children Kindergarten – Grade 2 this spring. Classes begin Wednesday, March 27th 4:00pm- 4:45pm, running for eight weeks meeting each Wednesday, with the session ending on Wednesday, May 22nd (no class on Wednesday, April 17th). Children will be lead in a variety of musical activities designed just for them. Call The Chorus of Westerly box office at 401-596-8663 for more details! 
A pre-chorister program first offered in 2013, Music and Movement serves our youngest musicians in Kindergarten through 2nd Grade. Music is a key feature of early childhood, and children are natural music makers who delight in the musical world around them.
In this class, young musicians experience a variety of music activities designed just for them!  Children sing, move expressively, create, and play instruments. While building a repertoire of songs for everyday living, children will acquire music skills and knowledge that will enrich their lives far into the future. 
In addition to acquiring early music literacy skills, making music enhances children's understanding of their world, aids in language development, and contributes to their social and emotional well-being.  Previous experience in music is certainly not required of the children to participate.
Class size is limited, please contact The Chorus of Westerly box office to register today at 401-596-8663.
ABOUT GENVIEVE-ASHLEY SPITALE 
Genviéve has her bachelor of music in music education from the University of Rhode Island where she studied voice and harp. For the past 13 years, she has taught music in a variety of settings which has included private music lessons, directing music in children's theater, and as a middle school teacher in Rhode Island and Connecticut.
More recently, she has been working with the newest and youngest members of The Chorus of Westerly, teaching skills required of all choral singers and preparing them to sing the Chorus's full concert season. She also leads the returning young singers in musicianship lessons, where they sharpen their skills in ear-training and sight-singing.
As a former singer of the Chorus of Westerly, she feels incredibly fortunate to work for an organization which fosters a love for music in the community, and her passion for teaching is fueled by watching our youngest chorus members become lifelong musicians.
ABOUT THE CHORUS OF WESTERLY The
190-voice Chorus of Westerly is the nation's only intergenerational symphonic choral ensembles. For each concert in its professional concert season, children ages 8 to 18 sing alongside adult singers as ensemble members of equal rank and expectations.
Founded in 1959 by George Kent and today directed by Andrew Howell, the Chorus has had more than 2,500 area residents sing in its program, with more than 1,500 singing as child members.
In its 60 seasons, the Chorus has presented nearly 700 performances to over 1.7 million people. The Chorus has performed in concert over 100 major choral works with fully professional orchestra and soloists, and has presented 13 major American premieres.
While its home is in Rhode Island, the Chorus has toured internationally five times, singing in such venues as Smetana Hall in Prague, Stephansdom in Vienna, Westminster Abbey, and St. Peter's Basilica in the Vatican while also receiving countless awards for its work.
The Chorus has also established regional traditions such as their annual Summer Pops performance which is attended annually by 25,000 people.
In addition to its extensive performance season, the Chorus also offers a broad reaching musical education program to its singing members and area children. This includes an "in rehearsal" music fundamentals class for all child and adult singers focusing on sight-singing, theory, and other musical techniques, as well as an introductory music and movement class for children Kindergarten to Grade 2.
The Chorus is also one of only three American choral organizations to own and operate its own performance venue – the historic George Kent Performance Hall.