UBER and Lyft drivers to Massachusetts lawmakers:
We need collective bargaining rights and a union NOW.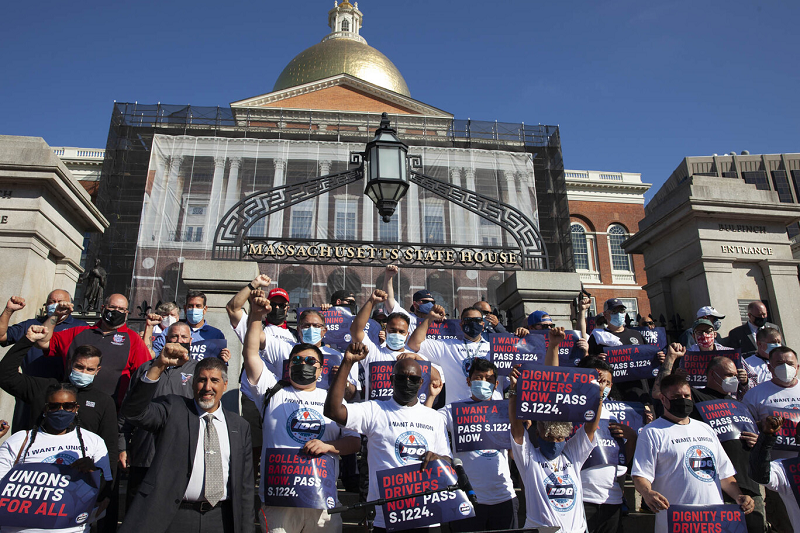 On election day, Massachusetts drivers urged legislators to vote in favor of rules that would give drivers collective bargaining rights and clear pathway to unionizing 
BOSTON, MA — Thousands of Uber and Lyft drivers facing poverty pay and adverse working conditions would benefit from a new law that was heard at the Massachusetts State House on election day today. Those drivers held a speakout on the State House steps this morning in hopes that as voters headed to the polls, lawmakers would also see fit to vote in favor of their ability to escape poverty wages by enacting a law that would make it easier for rideshare workers to collectively bargain and to form a union.
Photos from the event are available upon request courtesy of Massachusetts Independent Drivers Guild.
The law (S.1224) would for the first time ever give tens of thousands of rideshare drivers in Massachusetts the right to collective bargaining on an industry-wide basis, making it easier for those workers to escape poverty, and to provide for their families. 
Sponsored by State Senators Eldridge, Moran, Timilty and Hinds, and State Representatives LeBouef and Robinson, Devers, Ultrino, Sabadosa, Lewis, Higgins, and Comb, the Act Establishing Collective Bargaining Rights for TNC Drivers will give rideshare drivers the immediate ability to bargain for improvements to wages, benefits, job safety, and training, and to have a process to grieve unjust or biased deactivation practices that too often cost Bay State drivers their livelihoods. 
The bill has been endorsed by the Massachusetts AFL-CIO executive board and is being supported by the International Association of Machinists District 15, the Carmen's Union Local 589, and other community and labor advocates who say immediate action is needed to give rideshare drivers the collective bargaining and union rights that other kinds of workers enjoy.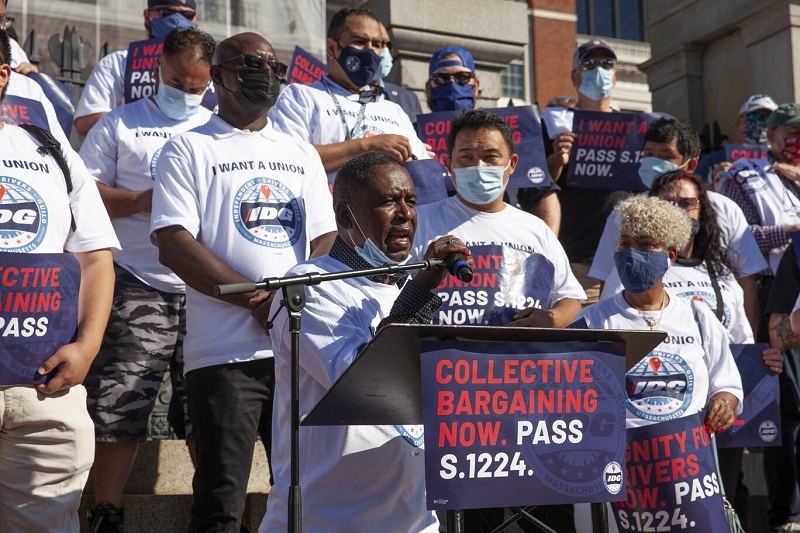 All of the groups backing the collective bargaining bill have vigorously protested the Uber and Lyft funded ballot initiative in Massachusetts that would curtail the ability of drivers to gain key protections that come from employee status.
Meanwhile, labor and community advocates say the legislature should act immediately to pass S.1224 so that rideshare workers can improve their lives now by gaining collective bargaining rights and by forming unions. Successfully seeing the bill out of committee following the September 14 hearing will be a key step toward that goal, say drivers and advocates.
In anticipation of winning collective bargaining rights through the bill, hundreds of workers across the state have begun to join the Massachusetts Independent Drivers Guild (Mass. IDG) which launched statewide this summer with the backing of the International Association of Machinists union after the national Independent Drivers Guild helped win drivers in other states wage increases of up to $27 per hour. The International Association of Machinists, which includes more than 600,000 members across the country, is one of the largest and most diverse unions in North America.
Some local driver groups in Massachusetts had begun taking up the name of IDG previously, and the official, recent launch of the statewide Massachusetts Independent Drivers Guild will bring new power and resources to drivers who are actively seeking to form a union and win collective bargaining rights. 
Lawmakers, labor advocates, and rideshare drivers are united in their support for S1224.
Mike Vartebedian, Assistant Directing Business Representative of IAM District 15 said:
"We will stand with these drivers and put the full resources of our organization behind their efforts to win collective bargaining and a union. We oppose the Prop 22 ballot initiative that would further restrict the already limited rights that these drivers have while working for companies like Uber and Lyft. We agree with thousands of drivers and riders who know that workers need collective bargaining rights and a union now, including as we continue to support other fights against the Big Tech companies in the courts and at the ballot box. The Massachusetts legislature has the full ability to give these workers collective bargaining and a fair shot at unionization today and that's what we're speaking out for."
Allen Hatch, a resident of New Bedford, MA and driver for Uber and Lyft.
"Drivers like me are being squeezed dry by the app companies, and that's why we urgently need to pass S.1224, granting us collective bargaining rights and a voice on the job. I pay for my own vehicle, gas, maintenance, and repairs, and then Uber and Lyft take a massive cut from our earnings. The wages we are left with are simply not sustainable, but if we had a union, drivers would have the strength in numbers to advocate for change and see the substantive raises we deserve."
David Settuba, former Marine and current Uber driver from Lowell, MA said:
"Drivers like me are caught between a rock and a hard place: we need our jobs to pay the bills and put food on the table but doing so often puts our safety at risk. During the deadly pandemic we worked long hours to make ends meet, get people where they needed to go, and bring people food so they could stay safe. Working for these companies as an independent contractor is a great opportunity and I'm thankful. But as rideshare drivers, we literally carry these companies on our backs. Without us, they're nothing. Collective bargaining is the best way forward, because our kids need to eat. We need a voice, we need childcare, and we need more safety protections."
Karen Chen, co-chair of the Chinese Progressive Association, one of the many advocacy groups backing the legislation, said:
"We see in our community the positive impact it can have when workers are able to form unions and collectively bargain to improve their lives, wages, and working conditions. We support S.1224 and hope the legislature will pass it promptly to provide much-needed relief and a voice through industry wide bargaining to these workers who are our friends, family, and neighbors."
Jim Evers, President of ATU Local 589 (Carmen's Union) said:
"The more than 6,000 workers of the MBTA who are united in Local 589 stand with all workers seeking a union and collective bargaining rights. We look forward to standing with these workers who face some of the same issues today that our members faced historically working in the often challenging and unsafe transportation sector. Local 589 members over generations banded together to create good, family-sustaining careers in the transportation industry and these workers deserve the same and will have our full support."
Darlene Lombos, chief officer of the Greater Boston Labor Council said:
"For too long these workers have endured poverty pay and rigged conditions when providing essential services for our communities and our economy. We stand with collective bargaining rights and with the workers who deserve an immediate path to unionizing and to improving their lives and the lives of their family."
Steven Tolman, President of the Massachusetts AFL-CIO said:
"The Massachusetts AFL-CIO supports the passage of S.1224 because every worker deserves the right to collective bargaining and a union. We encourage the legislature to pass this important bill for the benefit of thousands of Massachusetts workers who are currently being illegally and wrongfully excluded from organizing rights by their Big Tech employers."
Massachusetts State Representative Erika Uyterhoeven said:
"Everyone deserves to have a union, every worker deserves to collectively bargain, and every worker has the right over their safe working conditions to bargain with their employer so they can have the basic protections they need to work. The opposition is squeezing out workers in the most immoral, horrific way. The app companies are trying to profit off of every second, every minute of workers' labor. Without basic protections they are maximizing their profit and they are grinding us all to the ground, and we will not stand for it. We know what they are up to, we've seen it before. They are trying to buy our laws, they are trying to buy our rights as workers, and we aren't going to stand for it. We are here to stand proud and tall and say that everyone deserves to be represented by a union."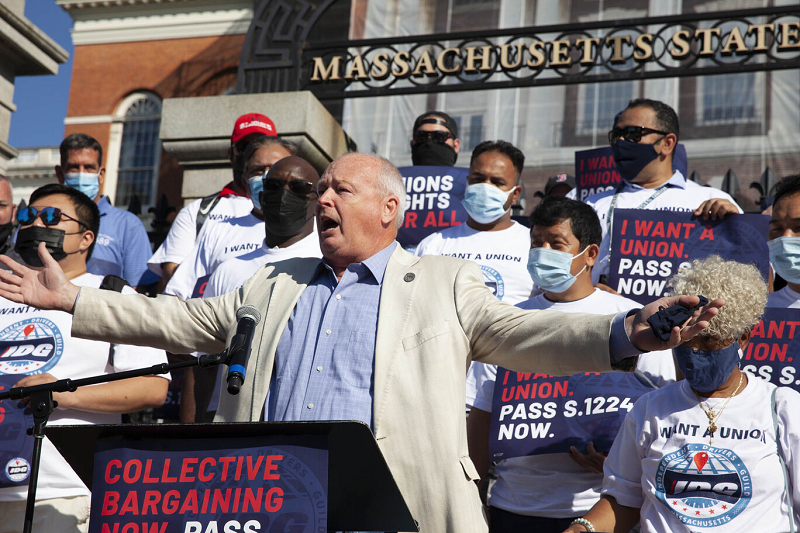 Rideshare workers are currently among the least protected workforce in Massachusetts, carved out of regulations that cover other workers in the state which would allow them to negotiate over their wage, benefits, or working conditions. New Massachusetts legislation, S.1224, would grant these excluded workers the freedom to collectively bargain over these issues already enjoyed by other workers throughout the state. As Big Tech companies gear up to pour millions into passing aggressive anti-driver legislation in Massachusetts, S.1224 will lift tens of thousands of rideshare drivers out of poverty, and provide them with the voice on the job every worker deserves.
The Massachusetts Independent Drivers Guild is a new statewide affiliate of the largest rideshare driver organization in the nation and proud to be affiliated with the International Association of Machinists. We are a driver-led and driver-powered advocacy group fighting for the rights of drivers across the country. Our primary mission is to unite drivers in the fight for the right to collective bargaining, which is the only way to stop driver exploitation by giving drivers the power to negotiate equitable work conditions for themselves. We are workers united for a fair industry.