A WIN FOR THE TAUNTON RIVER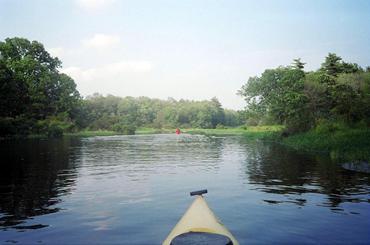 In a win for local waters, the U.S. First District Court of Appeals upheld a decision by the Environmental Protection Agency to impose a limit on the amount of nitrogen that the Taunton Wastewater Treatment Plant can discharge into the Taunton River. The treatment plant had appealed the EPA's final discharge permit, challenging both the need for a nitrogen limit and the specific limit imposed.
Save The Bay has been??championing the nitrogen??limits on the Taunton Wastewater Treatment Facility because of the critical importance of Taunton River health to the overall health of Narragansett Bay. The Taunton River empties into Mount Hope Bay, is the largest source of freshwater into Narragansett Bay, and??was designated a Wild & Scenic River within the National Park Service by Congress in 2009 because of its high quality habitat. It is an important regional ecosystem supporting rare habitats and aquatic species, including 45 species of fish.
Elevated nutrient levels in the region cause algae blooms that lead to fish kills, destroy aquatic habitat supporting many species,??and interfere with fishing, recreation and tourism. RI-DEM has imposed strict nitrogen limits on wastewater treatment facilities in Rhode Island, and the EPA has set nitrogen limits for the Upper Blackstone treatment facility, while the Taunton Wastewater Treatment Plant had been allowed unlimited nitrogen discharges??into the river. The new limits will help??protect Narragansett Bay from further degradation and help achieve water quality standards in the Taunton River and downstream in the Mount Hope and Narragansett bays.