LITTLE SHOP OF HORRORS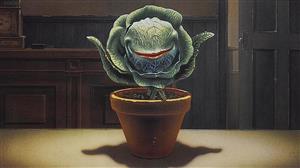 King Philip Drama & the Grady Auditorium Production Staff are proud to announce the performance of the (off-beat) holiday musical Little Shop of Horrors, produced in collaboration with Music Theatre International of New York.??
Performances are Friday December 7th and Saturday, December 8th at 7 PM and a Sunday, December 9th matinee' performance at 2 PM.?? Performance will be held in the Dr. Richard K. Grady Theatre at King Philip Regional
Tickets are $15 for adults and $8 for senior citizens and children under 12.?? Advanced credit card reserved ticket sales are available on-line via the KP Drama Web site, www.kingphilip.org/HSDrama
Cash sale tickets may be purchased at the door beginning one hour before each performance.
Little Shop of Horrors is the story of Seymour Krelborn, a poor flower shop worker on Skid Row who discovers a "strange and interesting new plant," named Audrey II, whose very appearance begins to change the fortunes of the struggling flower shop.?? The plant, however, has some interesting – and sinister – secrets and begins to effect the lives of Seymour, his sweetheart Audrey, and his boss, Mr. Mushnik, and not necessarily in positive ways.?? The musical includes the popular eponymous theme song as well as Downtown – Skid Row, Suddenly Seymour and I'll Be A Dentist (the latter most famously sung by comedian Steve Martin in the 1986 film version of the musical).
KP Special Needs Department staff member Melissa Taddeo is the director and KP Middle School music director Ryan DeWolfe is the musical director for this production .?? Choreography for the show is created by regionally renowned choreographer Lennie Machado, highly regarded for his award-winning choreography for the KP Color Guard and Winter Guard programs.
Anyone needing further information about the show should visit the KP Drama Web site or, alternately, contact the producer, Mr. Joseph Ferreira, by e-mail at ferreiraj@kingphilip.org.