Aluminar: The Fundamentals of Estate Planning, Weds., October 28, 2020 @ 12:30 p.m.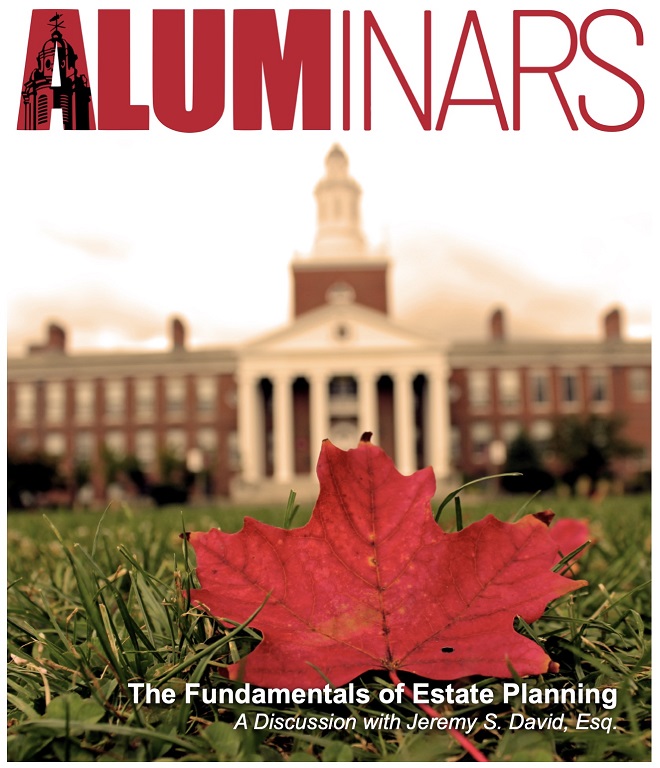 Join Jeremy S. David, Esq., Vice Chair, Bridgewater State University Foundation, as he presents four key components of a basic estate plan. These include: 
Durable Power of Attorney: To appoint someone to make financial decisions on your behalf.
Health Care Proxy & HIPPA Authorization: To appoint someone to make medical decisions on your behalf.
Last Will and Testament: To appoint someone to administer and distribute your estate assets and care for your minor children, if applicable.
Revocable Living Trust: To appoint someone to manage and administer certain assets during and after your lifetime and avoid probate.
The information provided and thoughts and views expressed by Mr. David in this presentation are for general informational and educational purposes only, do not necessarily reflect the views or opinions of Bridgewater State University or the Bridgewater State University Foundation and are not intended to constitute legal advice. Legal information is not legal advice, and information may not constitute the most up-to-date legal or other information. You should always consult with qualified legal counsel prior to implementing any personal financial or estate planning. The transmission or receipt of information to or from Mr. David is not intended to create, and does not create or constitute, an attorney-client relationship. Mr. David is not representing you, and he is not your attorney.
Register for the Wednesday, October 28, 2020 Aluminar here.
Jeremy is a founding member of Little House Capital, a boutique SEC-registered investment advisory firm in Braintree, MA, where he serves as the firm's Chief Fiduciary Officer and Chief Compliance Officer. He oversees relationships for high net worth individuals and families and advises them in the areas of investment management, financial and estate planning, and tax as he has done for over 20 years.
Previously, Jeremy served as a Senior Vice President in the wealth management group of People's United Bank, and prior to that he held trust and financial advisory positions with Eastern Bank, Sovereign Bank (now Santander) and AXA Advisors.
Jeremy began his career as an attorney in private practice focusing on estate planning and estate administration. He is also a Trustee and Vice Chair of the Bridgewater State University Foundation as well as the Chair of its investment committee.
Jeremy's educational background includes a Juris Doctor cum laude from Suffolk University Law School, where he served as a writer and editor of the Suffolk University Law Review. Jeremy also holds a Certificate in Financial Planning from Boston University and a Bachelor of Arts from Franklin & Marshall College.