RIPTA AND MEALS ON WHEELS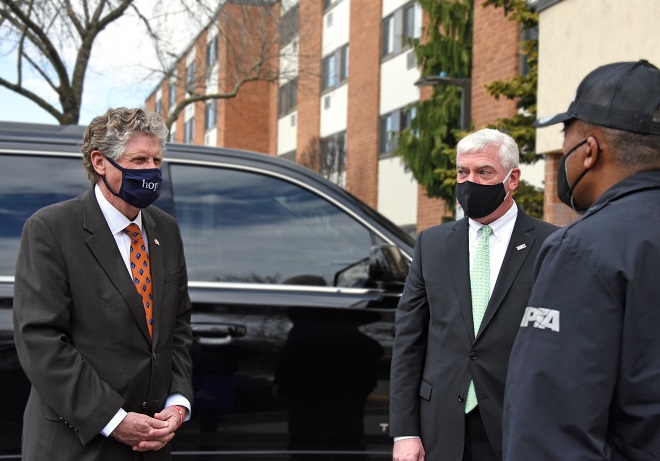 Providence, Rhode Islantransit vans to help with the deliveries every weekday, recently marked 10,000 meals delivered to the homes of Meals on Wheels.
 March  April 5, 2021 –  Governor Dan McKee visited the Rhode Island Public Transit Authority (RIPTA) today to thank the Agency and its drivers for assisting Meals on Wheels of Rhode Island throughout the pandemic.  RIPTA, which has been using its smaller paratransit vans to help with the deliveries every weekday, recently marked 10,000 meals delivered to the homes of Meals on Wheels clients since last spring.
Neighbors have helped neighbors, and community service groups and state agencies have all pulled together to use whatever resources they have to try to make sure that people's needs are being met."  
The Governor greeted RIPTA driver Jesus Castro Monday afternoon as Castro was making a delivery to a Meals on Wheels client in Cranston.  Later, Governor McKee went to RIPTA headquarters in Providence to meet more staff and let them know that the State appreciates their efforts.
Scott Avedisian, RIPTA's Chief Executive Officer, said that the transit authority is proud of the way its operators have responded to the pandemic.  "We are one of the few transit agencies that did not cut service throughout the pandemic,"  Avedisian said. "We are very aware that for many people, we are the only way they can get to essential goods and services.  When we told drivers in our  RIde Paratransit Division that we needed them to lend a hand with Meals on Wheels, they did not hesitate, quickly adding meals to their routes.
For more than 50 years, Meals on Wheels of Rhode Island has been committed to meeting the nutritional and other special needs of the elderly.  Each weekday, it provides meals to approximately 1,200 homebound seniors across the state. "We are incredibly grateful to RIPTA for their invaluable partnership, which was an essential component of our COVID-19 response," said Meals on Wheels of RI Executive Director Meghan Grady. "RIPTA drivers joined our drivers and volunteers on the frontlines, bringing our homebound clients their daily-delivered meals, well-being checks and social visits that help keep them healthy, safe and happy at home."
RIPTA's partnership with Meals on Wheels continues with the transit authority operating runs every weekday.  Its op COVID-19erators follow all Meals on Wheels protocols for safe door-to-door delivery during the pandemic.  "Our RIde drivers are well-trained and experienced," Avedisian said.  "Many of them choose to stay in paratransit because they like helping people."
In addition to working with Meals on Wheels since the start of the pandemic, RIPTA has also assisted the Office of  e Office of Healthy Aging in distributing large-scale meal donations to community centers across the state and helped Family Service of Rhode Island deliver essential care packages.  It continues to provide transportation for some employees at Honeywell in North Smithfield where the facility was retrofitted to help meet the demand for N-95 masks.