NEED TO KEEP WATCH ON HEADWATERS
BY DON DOUCETTE – "TEN MILE RIVER RAMBLES"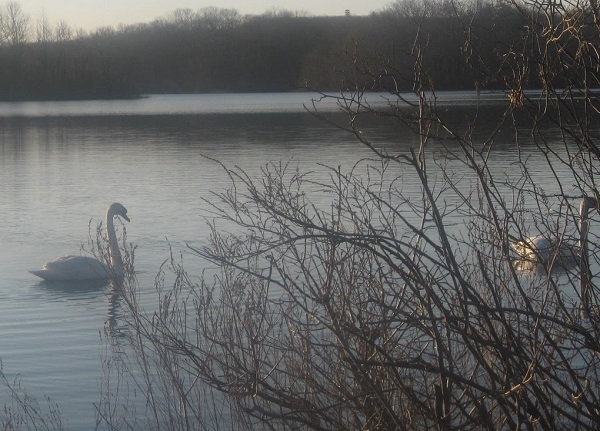 SAVAGE POND PLAINVILLE
Earlier this week we drove to view the headwater of the Ten Mile River in Plainville, Massachusetts.
Savage Pond's water level was high and sparkled in the sunshine as a neighboring private residence displayed a large mixed-color tulip  garden of great beauty.
With the return of migrating blackbirds, the wetland was filled with a mass of bird song. Clearly, Savage Pond is a valued centerpiece habitat for nesting birds.
There was a time when this headwater shoreline was a trash dump consisting of large castaway items such as kitchen appliances and car parts etc. – all at some point cleaned and removed by a citizenry unknown to this observer – but, a job well done.
The condition of the Ten Mile River headwater zone located between Savage Pond and Fuller Pond (poised slightly southward) is a delicate natural situation in need of concern.
This tiny ribbon of riverbed is but brook sized and subject to drying during drought seasons – long an area prone to strip mining for sand and stone, now appears helter-skelter as a would-be moonscape, as nature tries to heal these wounds with great difficulty.
Added to this jumble, is the squeeze of nearby development consisting of housing and commercial interests and with a troubled tax base ever requiring replenishment, the down-side cycle of development presses onward.
A vital portion of riparian terrain is presently focused upon for a large warehouse complex dangling financial enticement – this site situated extremely close to the delicate Ten Mile River headwater at Savage Pond and an even more delicate ribbon of the upper river zone and water table as previously hinted upon.
And even more delicate, is the ever present need for precious drinking water within the Town of Plainville worsened without impoundment possibilities and without adequate supply potentials and including a neighboring community southward dependent on highly valued sub-teranian water supply.
And so, the negative overall return of development cycles painfully ahead as this finite watershed resource presses ever onward toward the breaking point.
Don Doucette
"Ten Mile River Rambles"
Friends of the Ten Mile and Bucklin Brook
Citizens of the Narragansett Basin